Best Credit Cards on Offer Today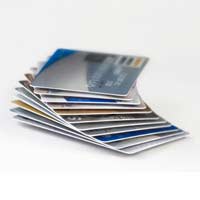 Which card is best for you depends on two things, what you are using your credit card for, and how much you will be spending.
One credit card may offer you a great deal for transferring an existing balance, while another may offer you a better deal on the balance you already have.If you are looking to transfer an existing balance from one credit card to another one than you will need a card that charges 0% interest for as long as possible. You should work out how long it is going to take you to pay off the balance. If you are going to pay off the balance in 12 months, then going for a 0% interest rate and a fees free card would be your best option. However, many people will slip up when transferring a balance and they will start to buy extra things on the credit card thinking that it doesn't matter. Don't fall into this trap, as it will take you longer to pay off the balance and by this time your 0% interest offer may have come to and end.
Buying Abroad
If you are looking to use your credit card overseas then you should consider how much a credit card company will charge you to buy things abroad. If you travel a lot and are frequently spending abroad then it is worth while thinking about what a credit card can offer. It may have an overall higher interest rate, but when compared to what other cards will charge you abroad, it may work out a lot cheaper overall.
If your main reason for getting am credit card is to buy one big purchase, such as a television or a holiday, but this is all you will be using the card for, then you should go for one that has 0% interest for as long as possible. This way, if you manage to pay back the balance before this period has ended, as long as the card has no fees then you will not end up paying any interest on your purchase.
Spending Large Amounts on Your Card
If you are someone that likes to use their credit card for almost every purchase, then you will need a card that offers a low APR, which means you will not be charged very much on all your purchases. You should also try to find a card that will reward you in some way for the more money that you spend, if for example you spend a certain amount, then they will give you a certain amount of cash back, or will give you some kind of free gift.
If you would like to feel good about yourself while you spend, then you could consider getting a credit card that will donate to a charity for every time you use the credit card, or will donate a percentage of what you spend to charity. This may mean that you ill end up paying a higher Interest rate though, but it may make you feel slightly better about spending all the time.
There are a vast array of credit cards on the market at the moment and each one will offer a different features that could be right for you. Choosing a credit card is just like buying a new car, or a house, you shouldn't just look at the initial rate, you should really think about what you are going to be using the card for, than go for the one that best matches your needs.
You might also like...