Recycling Credit Cards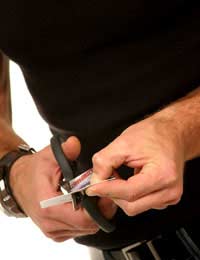 Credit card companies will always advise you to quickly and carefully destroy old cards by cutting them up with scissors, and distributing the various detritus into several different locations. Little is mentioned about recycling, which is a shame seeing how 7 million plastic credit cards are thrown away each year in the UK alone! Why not recycle your plastic, or even use it for a different purpose. Credit cards are well-sized, flexible and very handy for a number of applications, so don't jettison yours just yet!
Recycle Your Plastic!
There are various ways to re-use and recycle credit cards, all of which are safe to crime. However, if you are worried about old cards used for new purposes being stolen and your details being used for fraud, then don't fret too much! Once a card is cancelled by your credit card company it becomes totally unusable, unless the company themselves forget to cancel it that is - although if this was the case, they would be entirely responsible for any lost cash. Old credit cards are replaced by cards with new numbers and most notably, new security numbers (the number just under your signature strip). If thieves used these old numbers, then their purchases simply wouldn't work.
If you need to do more to put your mind at rest then why not scrape off the security code under the signature strip at the back of your card and black out your signature with a permanent marker. You could also cut the card in half, either vertically or horizontally and use for two separate applications!
Other Uses for Credit Cards
In winter outdated credit cards make excellent scrapers for frosted car windows.
Old credit cards make excellent applicators for builders and plasterers. Use them to apply filler to walls and wood, and grouting in the bathroom!
Credit cards are the perfect size to be used as shims. Shims are objects used in engineering, thin and often tapered or wedged pieces of material that are used to fill small gaps or spaces between objects. Shims are typically used in order to support, adjust for better fit, or provide a level surface or as spacers to fill gaps between parts subject to wear.
Credit cards and other plastic rubbish can be melted down and remolded into practical materials such as roofing insulation and matting. Ask local building merchants for details of where you should take your plastic rubbish for it to be professionally recycled.
Artists use old corporate clutter in modern art displays. If you get through a lot of plastic, contact local artists or art colleges to get rid of your plastics!
Credit cards are great to clear breadcrumbs and other food particles from dinner tables and tablecloths. Simply glide it over your surface to collect all the dirt!
You can cut up old credit cards and use them as guitar picks. Credit cards are multi-layered, so you'll need to be careful to get rid of these picks as soon as they start to fray or they may damage your strings excessively. Use sandpaper to smooth ruff edges after cutting, but where a face mask when you do - who knows what they put in credit card plastic!
You might also like...