Why Credit Card Companies Track Your Spending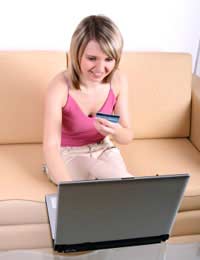 Credit card customers who suddenly find their credit limited or cut off all together have been searching for answers. The actual reason may be down to the credit company's reliance on credit tracking or profiling. Credit profiling means that every time a customer pays by credit card the credit company is watching and analysing.
Reducing Credit Limits in the UK
In early 2009 when an estimated 2.7 million cardholders had their credit limits reduced or their accounts closed down without warning, credit profiling was uncovered as one of the reasons. Credit card companies claimed reducing credit limits was done purely to recoup money during a bad financial climate. But deciding which customers would have their credit limits reduced wasn't just a case of targeting financially overstretched customers.
Even customers who paid on time or rarely used their credit cards were finding their lines of credit limited or closed down. This is where credit profiling enters the picture.
The Hidden Face of Credit Profiling
Until recently credit profiling was a well kept secret within the financial sector. Credit profiling is similar to stores using loyalty cards to track customer purchases and spending. Credit companies take customer credit purchasing data and along with credit reference information analyse to build a customer profile. The purchasing information that is analysed and the results produced have shocked many customers. This is not just a simple case of keeping tabs on those who are overstretching their lines of credit. Many customers see this data collection and analysis as a definite intrusion of privacy.
Types of Credit Purchase Information Analysed
When it comes to credit profiling there are a number of purchases that will appear as 'flags' to the credit profilers. Types of purchases will include:
Alcohol bought in stores or in pubs
Last minute holiday purchases
Gambling including lottery tickets
Relaxation purchases such as spa days
Bargain buying in cut price stores
Cash advances using credit cards
Marriage counselling sessions
How Credit Companies Analyse Consumer Purchases
Purchases such as alcohol, gambling, last minute holidays, etc are all flags to the credit companies. These purchases could be signs that the customer is looking to relieve some stress due to a looming crisis such as unemployment. This is just a simple example to illustrate how credit profiling works. The credit companies take previous and present purchasing information to work out a detailed analysis of the customer's behaviour. From this information they can then work out the next likely scenario such as defaulting, non payment, or even bankruptcy. Of course just because the scenario is likely does not mean it will actually happen.
Inactivity on Credit Cards
Credit customers who do not use their cards are also flagged by credit companies. There are customers who have had their credit accounts shut down simply because they have not actually used the card for a certain period of time. Customers who are not spending are not making any profit for the credit companies and this is the flip side of the coin. Many credit companies have been criticised because they are targeting reliable payers who do not miss repayment dates and pay more than the minimum payment limit. They are allowing bad payers to continue spending because they know they will be able to charge more in interest payments and make more profit.
No Warnings When Credit Limits are Reduced
Credit companies have come under fire not just as a result of cutting limits and shutting accounts but also because they are not giving warnings that this will happen. According to the financial institutions they do not actually have to give any warnings. They claim they are well within the terms and conditions and have the right to cut limits without giving the customer notice. This has inconvenienced and embarrassed millions of reliable credit card customers who all of sudden find themselves 'card refused' at retailers.
For the credit companies this type of profiling is seen as simply a way to maintain profits and avoid losses. To the reliable credit card customer with a suddenly reduced limit it is a smack in the face from their credit service provider. Credit profiling is a multi billion pound business and it seems that good credit customers are the ones paying to fund this business.
You might also like...