How to Get Credit Card Approval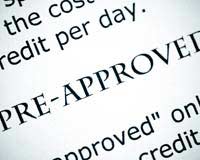 Obtaining credit card approval is never guaranteed but there are ways to increase approval chances. Lenders are more likely to provide credit cards if customers satisfy certain lending requirements.
Lenders and Credit Card Approval Requirements
Lenders do have a check list of credit card approval requirements but no two lenders are alike. Some lenders will provide credit to those with poor credit records if the customer meets the lender's requirements. Lenders will use the customer's credit references as a guide but this will not be the ultimate deciding approval factor. Lenders will take into account issues such as the customer's salary, home owner status and present debts. In the end, a successful approval may come down to one or two factors.
Pre-Approved Credit Cards
The key factor with pre-approved credit card applications is the word 'application'. Simply because the applications contain the word pre-approved does not mean that a credit card is a certainty. Once the application is completed the lender will still apply their lending criteria. If the customer does not satisfy the lending requirements they can still be refused credit. Those who are turned down for credit will simply have made it harder to obtain successful approval on the next application.
Use Caution When Apply for Credit Cards
Many people make the mistake of applying to numerous lenders when trying to obtain a credit card. Sending off multiple applications can often lead to credit card refusals. Every credit card application will leave footprints on a customer's credit record. Lenders will be able to see that multiple applications have been made within a short period of time. This sounds warning bells to lenders and will make the customer look like a bad risk. Lenders will also assume the customer is over extending their debt levels and will not be favourable to approving credit.
Credit Card Approval and Home Owner Status
Home owners can be one step closer to credit card approval than those who rent their accommodation. Home owners are seen by lenders as more stable and less prone to default on loans by moving accommodation. Home owners also have their home as a financial asset although it is generally not a good idea to use the home as credit security. Tenants can still increase their approval rating if they have been in their accommodation for a number of years.
Job Security Can Help Credit Card Approval
Having a secure employment record doesn't guarantee credit card approval but it can help. Lenders may look more favourably on customers who have been in stable employment for a number of years. Customers who have been employed with the same company can look like less of a risk to credit lenders. Risk factor is a big part of credit card approvals. Customers who can satisfy lender approval requirements will be seen as less of a lending risk and more likely to gain credit card approval.
Low Levels of Debt Can Increase Credit Card Approval
Keeping debt levels to a minimum is a wise move when trying to obtain credit card approval. Customers who have high debt levels will be seen as a bad risk to lenders when it comes to having disposable income. Having high debt levels can mean that customers may be likely to miss or be late with credit card repayments. It may be an idea to move credit balances to a new credit card company that offers zero percent interest when transferring. Transferring will also provide the benefit of repaying debt for a period while avoiding hefty interest fees.
Other Credit Lending Criteria
There are other points to consider when trying to increase credit card approval chances. These points will include:
The customer should be registered on the electoral role
Do not apply to multiple credit companies, if refused from one lender wait at least six months before applying
Always maintain a good credit reference; check personal credit references before applying
Reduce debt levels before applying, this means loans, present credit cards and store cards
Do not apply for credit cards if undergoing bankruptcy or there are county court judgements on credit references
Make sure that credit card repayments are easily affordable from disposable income
Do not apply for credit cards if there are any late or missed payments still showing on credit references
An important point to remember is that there are responsible lenders and irresponsible lenders. Applying to high interest lenders can be a way to obtain credit but it will cost significantly more in the long run. High interest lenders will try to keep their customers in debt for as long as possible. It makes financial sense to avoid credit card applications until the responsible lender's criteria can be fulfilled.
You might also like...