The Future of Credit Card Manufacture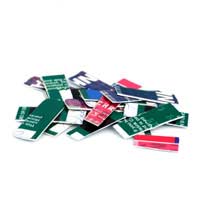 With the growing pressure on manufacturers to be organic and make everything as green as they possibly can, credit card companies are having to be quick on their feet and think of ways in which credit cards can appeal to more environmentally friendly minded of you out there.
However, making an organic bag or piece of clothing is a lot more straightforward than making an organic credit card. If the card was simply just made of plastic, this would not pose any problems, but because of its chip facility then it will never entirely be able to be recycled.
Recycling credit cards goes hand in hand with credit card fraud, nobody worries when they deposit their cans and bottles down their local recycling point, because there is no risk of somebody stealing your identity from this, but credit cards are different. Credit card firms stress that you should cut your card up into a million pieces and dispose of it correctly so that nobody can get your details. The credit card company is supposed to cancel your card as soon as it has expired, but it is understandable that some people might not always want to put 100% trust in them to do this.
How Credit Card Firms are Adapting
Credit card firms are starting to think a lot more environmentally friendly and are requesting customers to send in their used cards and they will make sure that the dispose of them safely and effectively. Although this is to be commended, if it does not happen on mass then the credit card companies could find that the energy they are using recycling a small number of credit cards may not be worth the end result. One of the biggest challenges is being able to make credit cards recyclable within mainstream recyclable waste.
To be able to do this they would have to make the magnetic strip and the chip in the card from recyclable materials and from something organic, which could be used over again. The reality of this happening at the moment is quite slim, and may be years down the line.
Does it Really Matter?
The world may be going organic crazy, but when it comes to your credit card, does it really matter? The size of the cards is so small that there is not enough pressure faced on manufactures to make them organic and reusable. You would still need to recycle several credit cards for them to equal in value the waste from one plastic bottle. The question remains whether society actually feels strongly enough to put pressure on the manufacturers.
There are other ways for manufactures to be environmentally friendly, without necessarily making their cards this way. One way is to offer to plant X amount of trees for every credit card that is issued, which in some ways may do good then making them from organic materials.
No doubt the future for the credit card market, like the rest of society will rest in being able to produce cards that are still environmentally friendly, whether this will happen anytime soon remains to be seen.
You might also like...