Custom, Famous and Fake Credit Cards!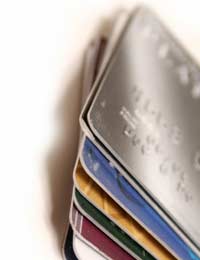 Stoozing is a relatively easy way of making money for free. To do this, Stoozers exploit credit cards which have an introductory period during which no interest is charged whatsoever on money owed.
Fierce competition within the credit card industry has meant that various credit card providers have pushed these attractive introductory periods of interest free credit further and further. It is now even possible to credit card companies offering interest free introductory periods of up to 18 months!
Getting hold of interest free credit allows Stoozers to borrow money for 'free' and then move it into a high interest savings account, earning themselves free money on a daily basis.
At the end of the 0% introductory period, the borrowed money is withdrawn from the high interest savings account and used to pay off the credit card balance in full. The interest gained from the savings account is your 'profit', which can be sizable, especially if this process is repeated with several cards at once, or consecutively. As with any other savings account interest, taxpayers need to pay tax on the interest earned.
However, this tax can be avoided, particularly if you use an alternative way of making money from Stoozing - putting the borrowed money into an offset mortgage, instead of a savings account. Doing this will reduce the size of your mortgage payments, 'earning' you money by reducing your overheads, overall, each month. This method of Stoozing does not require you to pay tax because you are not actually 'earning' anything, just making large savings!
Rather than pay off the credit card directly from the savings account at the end of the period, the Stoozer would normally have another 0% credit card lined up to pay off the first one. Thus, the borrowed money could stay in a savings account for a considerable amount of time.
Are There Any Risks Involved With Stoozing
To benefit from Stoozing you need to be in the position where you are not actually borrowing any money. Anyone in debt can not, and should not try to make money by Stoozing. However, introductory rate credit cards can play a significant part in reducing debt by temporarily minimising (or eliminating) interest charges during introductory periods. Even if you are not in debt, Stoozing may not be for you. There are many potential pitfalls for those who do not have an attention to detail. Before embarking on Stoozing you need to consider if you have the time and the inclination to pursue a long winded process of careful money management over many months or possibly years.
If this sounds like a lot fo effort, then Stoozing may not be for you. Furthermore, Stoozing will affect your credit rating. Although you are not actually ever putting the credit card company's money at risk, otehr credit agencies do not know this and may view your excess credit balance as a sign of a bad borrower. If you care about your credit rating or can foresee that you will need credit in the near future, forget about Stoozing for the time being.
You might also like...