Why Don't All Retailers Accept Credit Cards?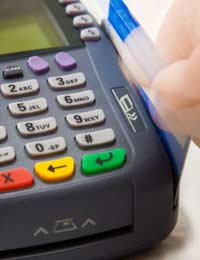 You may not think it but it is quite expensive for a shop to be able to process credit card payments. If you are a big department store, then no problem, it should make enough money for to be able to cover the costs, but if you are a small independent shop, then it may not make economic sense to have this type of facility.
If a small shop owner wants to accept credit cards they will first have to pay to have the equipment installed, as well as having to either buy or rent the actual equipment. They will also need to set up a separate phone line to the company that will process all transactions. This phone line will normally be separate to their usual phone line and will have to be paid for separately.
On top of this, the shop will have to pay a very small cost every time a transaction goes through on a credit card, so in one way, they are actually loosing money, if they do not out their costs up.So, although you may think that the retailer is being awkward by not accepting your credit card, in reality it may turn out that they are doing you a favour, as it means the time you are buying has not had to be put up in price in order for the shop to be able to accept your credit card.
Other Reasons Your Card May Not be Accepted
It may be that in some cases a business does not qualify to offer a credit card facility, credit card companies do not just hand over contracts to everyone, and they may look into a business the same way that it looks into your finances when you apply for a credit card. If the shop, or the owner of the shop has got a bad credit record and goes not look like an attractive candidate for a credit card, then they may reject them.
It is worth noting that is a firm does not accept your credit card you should really be asking yourself why this is. If a small shop is not accepting credit cards than this should be fine, but if you come across quite a large shop that you will be placing an order with or giving a large amount of money too, then there is no harm in asking them why it is that they are not accepting credit cards.
If it is Just Your Card they are Not Accepting
When it happens, it embarrassing, and yes, you may want to run out of the shop in shame, but it is quite common that your credit card is not accepted.It may be that you have gone over your credit limit, or it may be that the credit card company is having some internal problems which it has not informed you about. Either way, it is no reason to get upset, I'm sure the store will have experienced the problem before, and it shouldn't be a problem, as long as you have another method of paying.
You might also like...