The Most Famous Credit Cards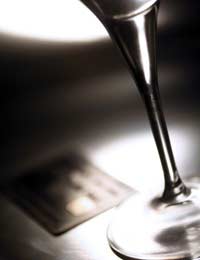 Unless you're incredibly rich, or a celebrity with indulgent tendencies, it's unlikely you've had much to do with exclusive credit cards. These cards, such as the Coutts credit card and the American Express Centurion, are not like mine or yours. They come at a price, often hundreds, or even thousands of pounds a year, but for this little fee they can open all sorts of doors for you, such as VIP entry to celebrity parties, personal shoppers at exclusive shops and tables at the finest restaurants, even when they're fully booked. If you can afford it, having one of these cards can really set you apart from the riff-raff!
What are the Best Credit Cards
Right now the American Express 800 pound a year invitation-only Centurion (aka, Black) card is considered to be the very best in exclusive credit cards available in the UK. This card was first made famous by Hollywood A-listers when it was only available in the States, but can now be spotted around London in the city's most exclusive bars and clubs.
The card is available for both personal and business use and offers numerous privileges including a dedicated concierge and travel agent, complimentary companion airline tickets on international flights on selected airlines with the purchase of a full fare ticket, personal shoppers at retailers such as Escada, Gucci, and Neiman Marcus, access to airport clubs, first class flight upgrades, membership in Sony's Cierge personal shopping program, and dozens of other elite club memberships.
Hotel benefits include one free night when at least one paid night is booked during the same stay in every Mandarin Oriental hotel worldwide once a year, one free night at one LXR Luxury Resorts hotel once per year, and privileges at hotel chains like Ritz-Carlton, Leading Hotels of the World, and Amanresorts.
A recent survey by the Luxury Institute of consumers with a minimum net worth of £2.43 million and £97,341 in annual income found the Centurion ranked first and the American Express Platinum card second among that well-heeled crowd.
The Amex Black card carries an annual fee of £1,250 and a minimum annual purchase requirement of £125,000. The UK's home-grown rival to the Amex Black is Coutts' purple World Mastercard Signia Card. But the field is getting more crowded. Some of the super-premium cards offered by US banks are already available in the UK. Thanks to London's booming financial sector and the generation of young tycoons it is creating, several more of the high-end cards rolled out in the US last year are likely to find their way to the UK before too long.
Soon to arrive in the UK will be the Bank of America's new Accolades card, launched recently in the US on the American Express network. It includes a fairly standard set of perks, like access to premium concert tickets, airline rewards programs and the like. Bank of America will waive the annual fee of £144 for customers who stick with its private wealth and investment management division.
A profitable Product
Banking for the ultra rich is becoming a lucrative business. Exclusive credit cards can be a highly profitable product for the card issuers. They won't make much in the way of late fees and interest charges (assuming rich people pay their bills on time and in full) but they more than make up for it in the fees charged to merchants to process transactions.
American Express network transactions mean fees of about 4% each purchase. For example, if you charged your new £250,000 Rolls Royce Phantom to your Amex Black, American Express could potentially rake in £10,000 in processing revenue. Not bad for a swipe of your plastic.
You might also like...