Are Credit References Unfair to Consumers?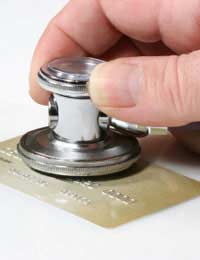 Credit references can be a cause of major frustration to consumers, especially those with less than excellent scores. Credit references often seem unfair when a poor credit scoring is given to those who have actually repaid their debts.
UK Credit Reference Agencies and Lenders
In the UK there are three major credit reference agencies. The main function of credit reference agencies is to provide an overview of a consumer's borrowing habits and debt history. Lenders will view these personal credit records and assess from the amount of debt and credit history whether a customer is a good or bad risk. Credit references can also help to stop credit fraud and are designed to help promote responsible lending and borrowing. But credit references can also seriously hamper a consumer's ability to borrow for many years into the future.
How Credit References can Impact Customer Borrowing
Consumers who default on credit cards, loans, higher purchase contracts and other credit agreements can be reported to a credit reference agency. The default will be marked down on the credit reference and this can stay on the reference for six years. Having a poor credit reference can stop consumers finding credit at normal interest rates. In most cases the only option for consumers with bad credit records is the high interest rate lending route. Bad credit references can mean the inability to rent accommodation, obtain mobile phone contracts and even open certain types of bank accounts.
Repay Debts and Still Have a Bad Credit Record
One of the major frustrations for consumers is the repaying of debts and still ending up with a bad credit reference. There are debtors who will make no effort to repay their debts and will simply accept a bad credit reference as the consequence of their actions. But there are responsible consumers who have paid their debts for years without fail and ended up with a bad credit rating. This can happen when a financial hardship occurs and maintaining repayments becomes difficult. Even if the consumer makes arrangements to repay outstanding debts they can still have a bad credit reference attached to their credit record.
Frustration for those Who Repay Debts
In many consumer's minds it is not fair that although they have been repaying their debts they are still seen as a bad risk to lenders. The consequences of a bad credit record are the same for those who repay their debts and those who simply never bother to make a repayment. Credit companies can mark on credit records that a debt has been paid and the debt can be marked as 'satisfied'. Many credit companies will not make this notification automatically and consumers will have to write to the company to ensure this happens. But there are credit companies who will simply never bother to make 'satisfied' notifications on a customer's credit record.
Good News for Borrowers with Bad Credit References
Lenders do use credit references to assess a borrower's credit history but this will not be the ultimate deciding factor. Lenders will use factors such as length of employment, earnings, existing debts and house owner and renter status to make a decision. Credit references will only be part of the assessment. All lenders do not use the same lending criteria and will make a decision based on their own lending requirements.
What to Do If a Credit Reference Agency Makes a Mistake
It's not uncommon for credit reference agencies to make mistakes on a consumer's credit record. For instance, a person with a clean credit record can find that their spouse's bad credit history can stop them from obtaining credit. This can happen even if the spouse with the bad credit history has died. Consumers can check and rectify for credit reference mistakes by obtaining a copy of their personal credit reference. If any mistakes are shown they should write to the credit reference agencies to have them removed from their records.
It does seem unfair that consumers who have made the effort to repay outstanding debts are still inflicted with a bad credit references. Consumers who have repaid debts should ensure that a notification is made on their credit reference. Lenders will see this notification and take this into consideration when making a lending decision. Six years is a long time for a bad credit reference and all 'repaid' and 'satisfied' debt notifications should be included on a credit reference.
You might also like...