What Happens if I Can't Keep Making My Repayments?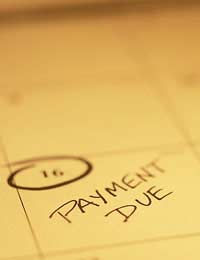 One of the best things about credit cards and credit card companies is that they are very flexible, so if you do find yourself unable to make your repayments than you have a lot of options.
If you think it is likely that you will not be able to make a payment, the best thing you can do is to tell the credit card company before you actually default. If you tell the company before you miss any payments then they are a lot more likely to be able to help you and find a solution.
Credit card companies don't ask for a lot in terms of repayments, they will have a set minimum payment that you will have to make, anything on top of this you choose. A credit card firm will not mind if you only make the minimum payments for years, although this is bad news for your finances, they will gradually be adding on interest to your balance the longer it takes you to pay it off, so they are benefiting.
If you Cannot Make the Minimum Payment
If you do find that the minimum payment is still too much for you, then your first step should be to stop spending on the card, unless you really have to. If you speak to the credit card firm they may be able to suspend your payments or wait until you are better off financially.Credit card firms aren't actually allowed to charge you a lot of money for missing payments, but this doesn't mean that you should not still try and make them. Credit card firms are able to charge you around £12 every time you miss a payment or make a late payment. If you carry on not paying back your payments then they could take legal action against you to reclaim the money that you owe, although it is rare that it actually gets to this stage.
It is also worth remembering that you could loose out on some of the perks of your credit card if you do miss any payments. A lot of credit cards will start of with an introductory 0% balance transfer offer, however, if you miss just one payment then it will revert back to its typical APR, which will add extra interest onto your credit card.
Also, don't forget that if you do miss payments on your credit card, this could effect your credit rating and will not look good when you come to try and get more credit or a mortgage in future.
Missing payments on your credit card is never a good thing, but you can make it better by speaking to the credit card firm and not keeping quiet. Missing payments will ultimately mean that you will end up paying back even more interest on your balance. However, if the worst happens and you do miss a payment, the penalties are not quite as severe as they would be in other financial areas, which will give you a chance to get yourself sorted out.
You might also like...