Hidden Charges When Paying By Credit Cards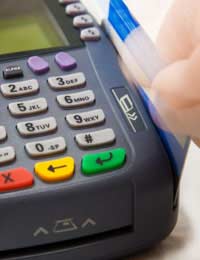 Credit card customers are aware that interest charged on transactions is the price paid for credit card borrowing. But many customers don't realise that they are being charged fees every time they make a transaction with certain retailers.
The Cost Of Paying By Credit Card
Many customers use their credit cards to pay for goods and services both online and in high street stores. But the price charged at the sales point is not always the price the customer ends up paying. Many retailers and other service providers add a credit card surcharge. This surcharge can be a single flat fee applied to each transaction or, in some cases, a percentage of the total transaction cost. These hidden charges can significantly add to the overall cost of a monthly credit card spend.
Customers Unaware Of Hidden Credit Card Charges
Customers today are quite knowledgeable when keeping track of their credit card spending and budgeting. But some can be completely unaware of hidden credit card surcharges applied by businesses. Many of these companies will not actually advertise the fact that credit card surcharges will be applied. Some companies do advertise the extra charge, for instance when booking an airline ticket online the surcharge may be mentioned at the final sales point. Anger has arisen as customers and financial experts claim these credit card surcharges are not cost reflective.
Credit Card Surcharges And The Retailer's Processing Fees
Most companies that do apply credit card surcharges will claim these fees reflect the amount of costs they incur for processing payments. But the amounts paid by the customer are usually far greater than the costs the company will have to pay the banks and credit companies. The UK Payments Association (UKPA) claim that retailers do pay a small merchant fee for transaction processing but this is usually between 1-2%. Some companies are applying surcharges of as much as 5% to their customers. Banks charge the retailers as little as ten pence for processing debit cards, yet some retailers are charging customers a much greater percentage fee.
Worst Credit Card Surcharge Offenders
There are some businesses in the UK that are milking customers for as much as possible on credit card surcharges. Certain low-cost airlines may not be as low cost as the customer thinks. If a customer makes a flight booking for four people and pays by credit card, there will be a surcharge per person, which means four surcharges. This will apply even if the customer books the four tickets using one credit card transaction. Companies that supply tickets online for music concerts and theatre tickets are also notorious for applying this kind of multiple surcharging to one credit card transaction.
Other Companies That Apply Surcharges
There are many UK companies that apply surcharges to credit card transactions. Most people pay tour operators and book holidays with credit cards because of the extra insurance provided. But travel companies, including holiday agencies, rail and long distance coach travel, will usually apply surcharges for credit card transactions. Certain local authorities in the UK have also started to apply credit card surcharges to people making council tax payments. These surcharges can be applied to a host of council service payments and can be as much as 3% of the actual cost.
Avoiding The Credit Card Payment Surcharge
Much to the anger of customers, it seems that companies claim these surcharges are justified, even though the banks and credit companies state otherwise. A few ways to beat the credit card surcharges can include:
Paying directly by cash when possible.
Paying by debit card as some companies will state there are no debit card surcharges.
Assessing whether those multiple cheap airline ticket buys are worth the money on the overall price.
Checking the cost of higher priced business competitors, which don't apply surcharges.
Looking out for extra administration fees at the end of online transactions; there may be no charge if paying by debit card.
Checking to see if a business charges for specific debit cards and not others.
Using a friend's or family member's debit card that will not be charged, and paying them the cash amount.
With the small processing fees incurred by the retailers, it seems there is no justification in the hiked up surcharges applied to the customer. These surcharges can definitely add up over the course of a monthly credit card spend. Not all companies apply credit card surcharges, so it does make financial sense to shop around.
You might also like...