Death and Inherited Credit Card Debt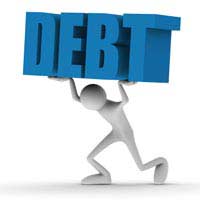 It's often the case that a loved one dies leaving outstanding credit card debts. This can be a worry to relatives and spouses especially if the deceased did not have insurance cover on their credit cards.
Inherited Debts and Debt Stress
Debts are often the last thing on a relative's minds when a loved one dies. But contacting lenders will be required to stop credit card debts from increasing. Relatives may worry over inherited debts but it is unlikely that these debts will pass on. Unless relatives, spouses or friends acted as guarantors or co-signatories on a credit card agreement the debts will not be passed on. A person must have been party to a debt to become liable for it. Credit card companies will need to be informed of the death and this will usually be undertaken by the person handling the deceased's estate.
Informing Lenders of a Death
It will be a wise move to contact lenders as soon as possible after the death. Relatives can write or telephone the credit card company with the details. This process will take time and it may be the case that relatives will have to contact multiple lenders. It will also be an idea to check the credit card statements to find out if there was insurance coverage in the event of death. Payment protection insurance may be available that will clear all credit debts. Lenders will usually request an original death certificate and this can be obtained from the births and deaths office.
Death and Repaying Credit Card Debts
Although relatives cannot be held responsible for the deceased's credit card debts they should not just ignore these debts. Lenders may try to recover these debts from the deceased's estate. Credit card debts are not priority debts; this means they come low on the list of debts that should be paid from the deceased's estate. If someone has been appointed as the executor of the estate they will be the person to deal with such issues. Lenders will want to know the financial situation if other debts have been paid from the estate.
Selling a Property to Pay Debts
It is unlikely that the deceased's property will be sold to pay debts if a co-owner such as a spouse still resides there. If the deceased's home does form part of the estate then lenders may try to proceed with a property sale to recover debts. If there is not enough money to cover all debts in the estate this does not mean that relatives or spouses will be liable. If a property sale is intended then it can be a good idea to negotiate with lenders to avoid losing the property. The estate cannot be divided between any beneficiaries until these debts have been paid.
Credit Cards Debts and Priority Debts
Credit card debts are not priority debts and there are other debts considered more important. Priority debts that will be paid first from a deceased's estate will include:
Funeral expenses
Mortgage loans and rent arrears
Taxes payable to HM Revenues and Custom
Utility bills
Keeping Lenders Informed of the Estate Outcome
Once lenders have been informed of the death this does not mean that contact will cease. Lenders are known to send monthly reminders and statements until the outcome of the estate and the payment of debts is resolved. This is not usually a speedy process and can take many months. Lenders will send monthly statements automatically and this is not intended as a method of harassment. If an executor is being used to handle financial affairs then all credit card statements should be directed to their address.
The Citizen's Advice Bureau and the Consumer Credit Counselling Service will be able to provide information and help on debt related issues. For matters that concern debts and property sale it will be wise to seek information and advice from a solicitor. Solicitors will be able to give advice on issues such as Survivorship clauses that can prevent property sales. Lenders will also be able to give advice on the issues surrounding death and credit card debts. The first step will be to contact lenders as soon as possible to stop all credit card accounts.
You might also like...