Credit Cards: Necessity or Debt Trap?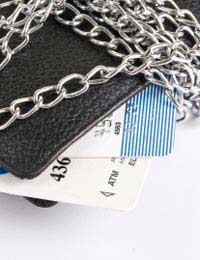 A credit card is one of life's necessities or at least the credit companies would like us to think so. Credit cards can be useful in emergency financial situations but falling into the debt trap can all too easily happen.
Credit Cards In the UK Statistics
Britain is a nation of shoppers and paying by plastic is one of the most popular purchasing methods. The first credit card company Barclaycard arrived in the UK in 1950 and there are now 1300 different cards available. There are around 75 million credit cards and charge cards in circulation in the UK; the UK population is only 61 million. With outstanding borrowing on credit cards standing at £56 billion it seems British people do love their credit cards. While these figures may be good news for credit companies the debt help agencies are reporting increasing levels of debt problems.
Minimum Credit Repayments and the Debt Trap
There are millions of consumers in the UK who only make the bare minimum monthly repayments. Around 3.5 million credit card customers will be repaying their credit companies for the next 30 years before the balance is cleared. Again, this is good news for credit card companies who stand to make millions from customers who only repay the minimum amounts. Many credit card companies have actually reduced their minimum payments in order to keep customers repaying more in interest. The longer it takes consumers to pay their balance the more money the credit card company makes.
Are Credit Cards a Necessity?
There can be times when credit cards can seem like a necessity. Credit cards can come in very handy if there is a financial emergency or for paying bills online. Of course unless the customer pays the balance in full within the interest free period they will be charged interest. This means that every purchase made by credit card that is subject to interest will be more expensive than it actually costs to buy using cash.
There are many alternatives to using costly credit cards and the end result will be no borrowing. No borrowing means no debt and no chance of falling into a debt trap that can last years.
Finding Alternatives to Credit Cards
There are a number of alternatives to using credit cards but each one will mean having a supply of cash available. Pre-paid credit cards and debit cards are two of the alternatives that will not cost the customer in interest fees. The downside with pre-paid credit cards is that there are a number of charges depending on the card supplier. Debit cards can be used in the same way as credit cards but there must be money available in the debit account. Many people can see the benefits of using debit cards; no borrowing, no interest fees and no charges for late payments.
Credit Card Debt is Bad for Your Health
Debt causes misery for millions of people across the UK. Credit cards and loan debt can lead to debt stress that can cause actual mental and physical illnesses. Doctors are aware of the effects of debt stress on their patients especially those with long term debts. Many people with high levels of debt suffer from depression that can lead to absenteeism from work and alcohol and drug addictions. This is a problem that can have a significant impact on a person's life and have a knock on effect to family, friends and work colleagues. That little piece of plastic and the debts that can occur can seriously damage a person's health.
Increasing Debt Levels in the UK
Credit card companies have been told to act more responsibly when lending but this may have come too late for UK debtors. The Consumer Credit Counselling Service and the Citizen's Advice Bureau (CAB) have reported an increase in debt problems. In fact the CAB now deals with 9,562 new debt cases every day. It is all too easy for people to lose financial control and then their financial freedom. Avoiding debt from the outset should be a priority but the habit of spending now and paying later has become the norm in the UK.
Credit card companies and consumers with serious debts will have different answers as to whether credit cards are a necessity. Credit cards can easily lead to a debt trap that for some is almost impossible to escape. Obtaining high levels of debt is not compulsory and there are alternatives to credit cards. Responsible borrowing and lending is the answer to avoiding the debt trap and keeping credit cards as a useful payment alternative.
You might also like...