Cancelling Your Credit Card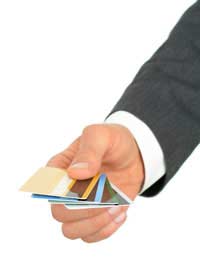 Cancelling your credit card can be a great way to relieve the feeling of burden that owing money puts on you, but before you reach for the scissors and start ripping apart your plastic, you'll need to pay off your balance in full and make sure you've successfully contacted your credit card company first!
Many credit card companies let you cancel an account by phone and for some, this process may even be as simple as pressing a number on your telephone key pad. Unfortunately, for most card companies (and especially for the big name ones) canceling a card can become a long, drawn out process, requiring you to do battle with wave after wave of customer retention staff and sales people.
If you've been a good customer and always paid your bills, your card company is likely to want to keep you with them. You may be transferred to a special retention department who will try to convince you to keep your card. Although they may offer you lower interest rates, better cards and even money off vouchers, bear in mind the reasons why you have decided to cancel your plastic in the first place. The bottom line is that credit cards will cost you money and you will almost certainly be better off without them. Be prepared to stand up for yourself on the telephone, a clear, firm voice and controlled attitude may be necessary!
One trick credit card companies may try to play on you is to talk about features they "may" introduce in the future. Remember that although the possibility of money back, money-off, and air miles policies sound good, they are by no means assured. Is your credit card company really likely to introduce these, or are they just stringing you along?
There's certainly no harm in listening to what your card company has to say. If the new deal your card company offer is better than others in your possession, you may even want to consider keeping it and canceling another cards instead. Otherwise, stick to your guns and cancel, be firm about it!
Points to Remember
Always make note of the day and the time you called and the name of the person you talked to for your records and in case you have any problems in the future.
Ask your company to send you a written confirmation that your account has been closed. Once you have received this, you have proof that your account should have been ceased.
Upon closure ask your credit card issuer to make a note for the benefit of the credit bureau that the account was closed at the "customer's request" and not for any other reason (otherwise companies checking your credit rating may assume you've been declared bankrupt).
If you are extra cautious, you may like to send a letter to your credit card company to confirm your wishes to close your account in writing. Find out where to send this letter when you speak to your company on the phone.
Once you've received confirmation that your card contract has been terminated and that your balance is fully paid off, you are finally free to rip up that plastic! Congratulations!
You might also like...