Why Lenders Love Careless Credit Card Customers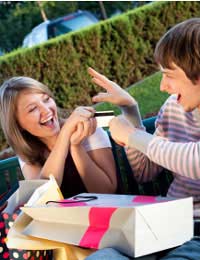 Customers who never check their credit card statements, always make minimum repayments and don't care about interest rate are good news for lenders. Careless credit card customers make more money for lenders and pay much more per year than shrewd credit card customers.
Credit Card Customers who make Lenders Happy
The way credit card customers use their cards does make a difference to lender's profits. Customers who have a careless attitude to spending on credit cards make lenders very happy indeed. Careless credit card customers are the type who never check their statements and don't bother to research interest rates before applying for cards. This type of customer will always simply make minimum repayments every month, usually because they have multiple credit cards to maintain. Reckless credit card use simply means more profit for the lenders with the credit card user throwing money away.
Careless Customers and Missed Repayment Dates
Missing repayment dates does not usually worry careless credit card customers. Many customers will happily see the repayment date fly by and will wait for reminder letters before they make a payment. Late payments usually mean penalties and added interest fees, which are not financially insignificant. For many careless customers these late payment fees can total more than the minimum repayment amounts. Paying credit card bills on time can save customers hundreds of pounds in charges and fees each year.
Failing to Research the Best Credit Card Deals
It's not only careless credit customers who fail to research the best credit card deals available. Many credit card customers will simply stick with the same lender for years instead of changing. Researching interest fees is one of the ways to ensure that credit consumers do not pay exorbitant interest rate fees. The option to switch account balances to zero interest credit cards never occurs to certain customers. Lenders love reliable credit card customers who never consider annual percentage rates or good deals that can be found elsewhere.
Making Small Purchases on Credit Cards
There are some customers who use credit cards to pay for everything, including very small purchases. Paying for a lunch sandwich using a credit card is simply throwing money away on interest fees. This is similar to borrowing money from somebody to pay for the sandwich and then paying them back later with added interest. Many people also withdraw cash from automated tellers using their credit cards. Withdrawing cash significantly racks up interest fees and can be as much as three percent; this interest starts the minute the cash is withdrawn.
Lose Money by Making Only the Minimum Repayments
Credit card companies and lenders in general love customers who only make the minimum repayments. Making only minimum repayments means credit card debts can live for years without making much of a dent in the account balance. Minimum payments also mean maximum interest for lenders. Paying only a few extra percent above the minimum repayments can make a significant difference to a credit card account balance, in the customer's favour. Minimum payments over multiple credit cards is one way to seriously waste large amounts of cash and make lender's extremely happy.
Checking Monthly Credit Cards is a Necessity
Many careless credit card customers do not even bother to open their statements each month. With identity theft increasing it is imperative that customers check their monthly credit card statements. This is one of the ways to look out for unusual payments that won't be noticed by credit cards companies. It's also the case that credit card companies as well as banks and other lenders make mistakes. The only way to tell if mistakes have been made is to check credit card statements for financial errors and theft.
Ways to Stop Contributing to Credit Card Companies
If you don't want to boost the profits of credit card companies then don't use a credit card. But if a credit card is a necessity there are ways to minimise the amount paid to lenders. These can include:
Research the best interest rates before applying for a credit card; use comparison websites as a guide
Try to always clear off accounts within the interest free time limit
Never withdraw cash or use credit card cheques
Always make more than the minimum monthly repayment
Check statements every month for discrepancies
Stop using credit cards for small purchases; use cash or debit cards
Consider transferring balances to zero percent interest credit cards with long interest free periods
Careless credit card customers can find themselves throwing more money into the lender's pockets than is actually necessary. Implementing a few simple measures can stop financial waste, clear balances quicker and stop careless customers from becoming the lender's favourites.
You might also like...