The Unmanageable Credit Card Debt Test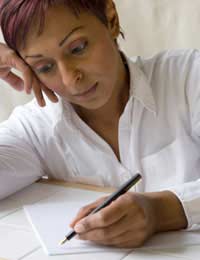 Serious credit card debt is a problem that can build up very rapidly, and for many people the temptation is to avoid the situation. There are warning signs that debts have become unmanageable. Answering yes to one or more of these questions may mean the time has come to take a serious look at the problem.
Do You Have Multiple Credit Cards With Large Balances?
Having multiple credit cards in itself is not often a problem; many people have more than one credit card. Problems can occur with high balances and not clearing a large amount of the debt each month. People with multiple credit cards who only make minimum payments will be paying a large amount in monthly interest payments. If borrowers are missing payments on one or more cards then interest payments will mount up as well as the missed payment charges.
Are You Borrowing From One Credit Card to Pay Another?
If you are borrowing from Peter to pay Paul then this can lead to a serious debt cycle. Credit card juggling is a very common occurrence, and in some cases it can work when moving money to zero interest credit cards. However, problems can occur when borrowers take money from one credit card and then make the minimum payment on the other. This means that only the interest is being paid on one card and then interest is accumulating on the card that was borrowed from. This is double trouble and will be worse the more credit cards you have.
Are You Missing Payments on Multiple Credit Cards?
Missed payments will of course bring missed payment charges. These charges are high enough on one card but if payments are missed on multiple cards then borrowers can find themselves with rapidly growing unmanageable credit card debts. Not only will the charges be added to the balance but interest will be payable on the balance and charges.
Have You Applied for More Credit But Been Refused?
Refusal of credit is a big warning sign that debts have become either close to or past the point of being manageable. Lenders will have looked at credit records before deciding whether or not to provide credit. If you have been refused credit then obtaining a copy of your credit report is vital. Bad references on a credit reports can affect your ability to obtain credit for the next six years.
Is Your Salary Being Eaten by Credit Card Debts?
At the end of the month do you find that a large amount of your salary is being used to pay credit card debts? If this is the case then it is a sure sign that debts are becoming unmanageable. If you have little or no disposable income then you could be heading for trouble. Consider contacting creditors to arrange lower repayments or a period where interest can be frozen.
Do Credit Companies Contact You Frequently Regarding Late Payments?
A sure sign that debts are starting to slip beyond control. There is nothing worse that credit companies or collection agencies repeatedly telephoning with demands for payments. Unfortunately many people simply bury their head in the sand when this does happen. Talking to the credit card company or collection agency and coming to a payment agreement is one of the best ways to solve the problem at this point. Coming to a new payment arrangement will stop the telephone calls and save money and stress in the long run.
Have Your Credit Cards Been Taken While Shopping?
This is not only embarrassing but it also shows that you are in denial over how much debt you are in. It is rarely the case that a store will retrieve a credit card from a customer for a few missed payments. The store will only do this on instructions from the credit company. If it has come to the point where a store has actually refused to accept a credit card and also taken the card then it is now time to seek help.
Have You Been Stressed Due to Debt Problems?
Stress is a major offshoot of debt problems and is one of the reasons for absenteeism from work. Debt stress can lead to depression and it is a problem that doctors do deal with on a regular basis. The first step towards solving debt stress will be to seek professional debt advice from agencies such as the Citizens Advice Bureau and the Consumer Credit Counselling Service (CCCS).
You might also like...