Cancelling Credit Cards Can Affect Credit Ratings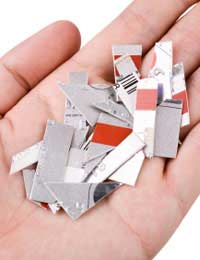 You may think that by cutting up or cancelling your credit card you are doing the best thing and resisting temptation.
However, cancelling your credit card could lead to more problems than it's worth.A lot of people don't even know or realise that they have a credit score against their name, which can determine whether or not lenders will give you any kind of loan, based on your credit history.
In some cases it may be better to just keep your credit card sitting safe in a bottom drawer, this is as long as you are not paying any kind of fee on it. Lenders will run credit checks on every person that applies to lend money from them, they will be able to delve deep into your past finances and see how well you have been with your money.
If a lenders sees that you have cancelled a credit card this may look strange to them or it may start to ring alarm bells and make them think that you cannot manage your finances.
How Much You Owe in Relation to How Much Credit you Have
One thing that will show up on your credit score will be how much money you owe in relation to how much money you have available to you.
The higher the amount of credit you have available to you in relation to how much debt you are in, the more of an attractive client you look to and bank or lender. You may think that cancelling you credit card will lower the amount of credit that is made availed to you, and this will be a good thing, wrong.
For example, if you have £15,000 available to you over three credit cards and your debt is much lower than this, then you will have quite a low credit rating, however if you then cancel a credit cards that does not have any outstanding balances on it, then you would not have as much credit available to you in comparison to your debts, so it would lower your credit score and make you less desirable.
If You Do Want to Cancel the Card
If you are set on cancelling a credit card you should make sure that you cancel the one that you signed up to most recently. The credit scoring system will also take into account how long you have had the cards, the longer you have had a card the more benefit it is to your credit score and will carry more weight.
It makes sense to cancel a credit card if you are having problems resisting spending money on it, but if you simply want to cancel it because you don't want to worry about it, this is not the best idea.
If you are paying a fee on a credit card it is worth having a think about whether you should remain paying the fee or have the black mark against your credit record. A credit card will come to no harm sitting in your bottom drawer, so as long as you are not tempted to use it, the best advice would be to keep it there.
You might also like...