The Facts on Credit References and Lender Approval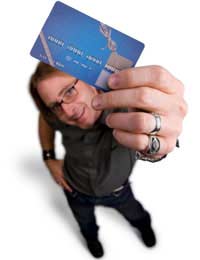 Credit references and lender approval are usually on the borrower's mind when it comes to applying for credit. But the fact that the customer can have a seemingly bad credit record does not mean they will not be approved for credit.
A Common Credit Reference Myth
There are a huge number of myths surrounding credit references, especially when it comes to a customer being 'blacklisted'. Although many people think a blacklist of bad debtors exists, this is simply not true. Credit references are held by agencies; in the UK there are three major agencies. These credit references can be provided to lenders who may use it as a guide when providing credit. But lenders have their own criteria when it comes to providing credit and at times will ignore the credit reference information when making their lending decision.
Lender Approval When Applying for Credit
Even if the person apply for credit has a decidedly patchy credit reference this does not mean that credit will not be given. Lender approval can be given once the lender has applied their approval criteria. This can include aspects such as ability to pay, previous good customer standing, and whether or not the applicant looks like a good or bad risk for the lender. One of the major lender approval issues is whether or not the lender will make a financial return if they decide to lend to the applicant.
Lender Approval Criteria
Lenders do have their own criteria and scoring systems when it comes to approving or refusing an applicant. Factors that will be relevant to a lender when it comes to the lending decision will include:
The likelihood of the lender turning a profit
Previous customer lending to the applicant
The interest rates that can be applied to the credit
The ability of the customer to pay
The applicant's employment record and accommodation details such as homeowner or renter
Whether or not the applicant is presently financially overstretched
Whether or not the lender has fulfilled their lending quota
Can the Applicant Make the Lender a Profit?
Apart from the applicant's ability to pay, one of the major factors to lender approval will be profitability. It may seem strange but a borrower with a record of paying off their credit card balances and loans quickly or early may not seem like a good bet to a lender. Lenders love customers who take as long as possible to repay their borrowings. Customers who pay back the minimum balance every month will make the lender more money. Minimum payments will extend the lending period and make the lender more money in terms of interest payments.
Not All Lenders Use the Same Lending Criteria
There is no one 'catch all' lending criteria system used by lenders. All lenders are different and are looking for different things from their customers. A lender such as a bank may say yes depending on the number of financial products they think that the applicant will buy over a period of time. Lenders who are looking to make a big profit through higher interest rates may look more favourably on those with less than glowing credit records. Simply because one lender turns an applicant down does not mean that another lender won't say yes.
Credit References Can Influence Lender Approval
There is of course some information found on a customer's credit reference than can make a big difference when it comes to lending approval. If an applicant is not on the electoral register then there is a higher chance they will be turned down for credit. Lenders may also refuse if the applicant has recently been refused credit or is making a high number of applications. Being turned down by other companies does not usually inspire lending confidence and can be detrimental when applying for credit.
Having Good Credit References Will Be Beneficial
Although lenders do have their own lending criteria it is a good idea to have at least a good credit reference when applying for credit. A poor credit reference may not completely turn off a lender but it will not exactly inspire initial confidence. Obtaining a copy of a recent credit reference from one of the major credit reference companies will be beneficial. Applicants can see if there are any incorrect entries on the file, including fraudulent transactions, or if the file needs updating.
When it comes to lender approval it can often be a hit and miss situation; an applicant who looks like a risk to one lender may look favourable to another. This doesn't mean that credit references aren't influential it simply means that a poor credit reference may not be a bar to gaining credit.
You might also like...