When it Pays to Use a Credit Card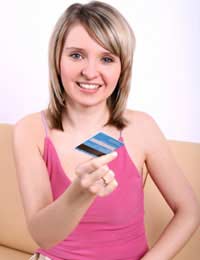 With interest rates increasing and rewards such as cashback bonuses decreasing there aren't many incentives left to using a credit card. But there are times when it does pay to use a credit card instead of cash. The biggest advantages of credit cards are the consumer protection you get when you buy by credit card and the fact that you don't need to carry around huge amounts of cash when making purchases. The latter elements are dealt with in our other articles, but here we're looking at how you can still find incentives and rewards on credit card schemes.
Finding Good Credit Card Incentives
Smart credit card consumers have often chosen their cards on a combination of factors. In the past, zero or low interest credit cards with incentives such as cashback rewards have been the clincher to opening a new account. But credit company belt tightening means that card incentives are now limited. Finding a good credit card deal or an incentive to even use a credit card can take some work. Credit companies and other businesses will always have incentives, and it pays to keep an eye out for a bargain.
Look Out for Credit Card Gift Incentives
Many businesses will offer incentives to customers who open credit card accounts. Online shopping businesses such as Amazon and Play offer money off vouchers to spend in their stores when a credit account is opened. These vouchers are provided when the customer makes a purchase within a set amount of months, usually three or six months. Pay off the balance before the interest free period expires and this is basically free money.
Supermarkets and Competitive Credit Card Deals
Supermarkets and stores such as Tesco and Marks and Spencer are providing the most competitive credit deals on the market. Offers from the stores include 10 months interest free credit and zero percent interest on balance transfers for six months. Combine these incentives with points that can be redeemed against goods and the stores seem to be winning the credit card battle. Many of these stores also offer travel money using their credit cards without incurring any fees.
Grab a Free Flight With a Credit Card
Flight companies often give great incentives to tempt customers into opening an account. Airmiles have long been used to rack up points on credit cards to then obtain free flights. Other flight companies have come up with incentives such as a free European flight simply for opening a credit card account. Airline credit card holders will also enjoy discounts on car rentals and hotel stays. These incentives do change regularly, and it does pay to include airline credit cards in any credit card comparison check.
Open A Store Card and Grab a Discount
Department stores will have discounts available on purchases if the customer opens a store card account. One trick to save a lot of money is to go shopping with a few friends with one person opening an account. Pay off the balance within the interest free period and this can be a huge saving for all involved. A new discount can then be applied when the next shopping trip occurs and another person opens an account. This trick is a winner as long as the account holder is given the cash from their friends, minus the discount, and the balance is paid during the interest free period.
Other Incentives to Using a Credit Card
For the wise credit card customer there are definite times when it pays to use credit cards. The incentives will depend on the type of card. Certain conditions such as paying the balance before the interest period kicks in may also apply. Cost effective credit card incentives can include:
No fees or charges when using credit cards abroad
Points that can be redeemed for purchases in a wide variety of stores
Cashback rewards are still available through certain credit card providers
Some credit cards give zero percent interest for a set period when buying certain goods such as petrol
Money off household bills such as telephone bills when using the telephone company's own credit card
Credit cards such as the AA card provides double rewards points when buying petrol
The best way to make a credit card work for you is to make sure the incentive is relevant. If you spend a lot of money on petrol every month pick a card that will provide rewards for doing so. Low interest rates should always be the major consideration when choosing a credit card. After choosing the low interest option research the incentives that will actually be of benefit. With credit card companies making billions from their customers it is a good idea to see some reward for that credit card loyalty.
You might also like...