Get Free Flights from Credit Cards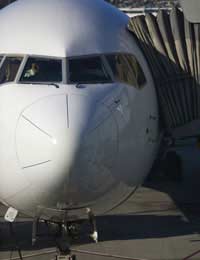 It's no secret that credit card providers use incentives such as free flights and airmiles to attract new customers to sign up. As long as you are financially savvy, and are not one of those people who are easily lured in to overspending on their plastic, this means that you can bag a free flight by just continuing to make your normal everyday purchases on your prospective credit card, rather than your debit card. It's simple - sign up for a credit card, make the minimum purchase that qualifies you for the offer, pay off your balance in full within 30 days, wait to receive your free flight, free voucher or free airmiles, close your credit card account and enjoy your flight!
How to Get Free Flights
Free flight credit cards come and go, and offers are constantly being introduced by new cards that seem to offer better and better deals, as the credit card industry becomes more and more competitive. It's worth keeping an eye on new offers and comparing cards from time to time to see if you can blag yourself some great deals. However, there are a few cards with free flight offers that seem to always be around, and these are a great starting point to get claiming those free airmiles!...
Lloyds TSB Airmiles Duo
This card is currently offering 1,500 Airmiles for customers who spend just £10! This is enough points to exchange for a return flight to one of what the deal classifies as 'Zone 2' destinations in Europe, with all taxes and charges included. Zone 2 includes countries such as Budapest, Faro, Stockholm, Ibiza and Cagliari, plus the flight can be booked on British Airways, making this offer much more attractive than the usual free flights deals on budget airlines such as easyJet or Ryanair!
Alternatively, 1,500 Airmiles can be redeemed for two all-inclusive return flights to Zone 1 destinations (which includes Paris, Dublin and Amsterdam).
To get the points all you need to do is spend £10 (which certainly won't be hard!) and then pay the card off in full before the end of the month to receive your airmiles within 30 days.
Free European Flight with Flybe
Flybe's credit card offers customers a voucher for a return flight on any of its European routes after they have made their first purchase on plastic. Taxes aren't included, so you'll have to pay these (which can be an annoying extra fee) but customers aren't expected to pay over a certain amount before they qualify for their flights. There's no minimum spend, you just need to make a single purchase which can be for anything, even a pack of chewing gum! Once again, make sure you pay the card off in full before the month to ensure no interest is applied.
Easyjet Flights
The easyJet Mastercard offers customers 4,000 reward points once they have spent £250 within 90 days of opening their account. The 4000 reward points will be credited onto your account and work out as a £40 reduction to the price of future easyJet flights. You can also use this discount for other easyJet products such as rental cars, hotels and insurance. If you don't use the full 4,000 points in one go (which you most certainly almost always will!) the points remain on your account for up to twelve months, at which point they become nullified.
You might also like...