The Best Freebies From Credit Cards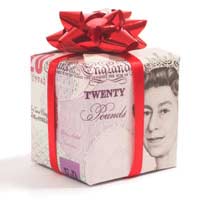 When it comes to freebies, credit card firms are willing to hand out everything from free flights to free concert tickets.The best way to get something back from credit card firms and take advantage of their offers is to constantly change your credit card provider so that you can sign up with a new firm and take advantage of whatever offer they have on at the moment.
Credit card companies will normally offer you a free gift which could rangefrom cash back to an ipod, however they will normally want you to spend so much on your card before you qualify to receive the gift. Spending to receive a free gift is fine as long as you are going to spend the money in the first place, there¹s no point spending thousands of pounds just so you can get a gift that is only worth a few hundred pounds.
The best thing to do is to claim the freebie, pay off your debt and then don't spend anymore on that card, this way, if you really want you can even open another credit card and claim the free gift of a different company.
There are also advantages of sticking with one credit card provider as theymay take the other approach and reward customers that have remained loyal tothe firm have been spending on their credit card for a number of years.
Different Types of Freebies
There are two different types of credit card freebie, the first are freebiesthat are not necessarily going to get you excited, they are freebies that are attached to the card, such as free fraud cover, free insurance and free credit limit. These in some ways can be just as tempting as a free flight, as they can save you a lot of money and stop the need for you having to look elsewhere for things such as insurance. Credit card firms can also offer you other so called non-exciting freebies such as free mobile phone insurance or house and contents insurance. You shouldn't overlook these as they can be worth more than some of the more glamorous free gifts that are on offer.
If you want something a bit more exiting from your credit card company thanas long as you are willing to spend on the card you shouldn't be disappointed.Credit cards not only like to offer you free gifts but they will also sometimes run annual competitions where you could win an exotic holiday or something similar.
One of the most popular free gifts with credit cards firms is to offer airmiles, so the more you spend the more free air miles you can stock up. This has to be one of the best freebies, and one of the most popular ones that firms can offer, as it is consistent and appeals to a wide audience.
If you are already a big spender on credit cards then you can take advantage of what credit cards are willing to offer and reap the rewards. Beware though, don't be sucked into spending on a credit card because of the freebies on offer. Just remember, the best freebies are the ones that actually are for free and you don't have to spend anything.
You might also like...