Should You Use Credit Cards for Christmas Shopping?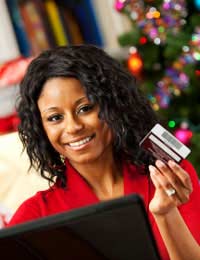 Christmas is the retailer's busiest period of the year, and UK shoppers spend millions on their credit cards during this season. With the plastic taken a pounding in the run up to Christmas, customers should consider whether credit cards are the best spending option?
Christmas Credit Card Shopping in the UK
Christmas is one of the busiest times of the year for UK stores and shoppers. Even during economic downtimes the UK cash registers will ring heavily as customers buy gifts and stock up for the festive season. Online shopping has also made a difference to the way UK shoppers now purchase Christmas gifts. Shopping online can also mean paying by credit cards and this can mean purchases will work out more expense than paying by cash or debit card. Consumers should look for ways to limit interest payments if Christmas shopping using credit cards is unavoidable.
Should Credit Cards be used for Christmas Shopping?
Shopping at Christmas can be a big expense and credit cards are the only way to pay for some people to spend at Christmas. Credit cards mean the expense of Christmas shopping can be spread out and not purchased using cash. In an ideal world credit card users would pay off their credit card spending before the interest free period expires. But for some credit card consumers on a limited budget this is not an option. At the very least credit card shoppers should try to repay more than the minimum repayments to pay off Christmas shopping expenses quickly.
Zero Interest Credit Cards for Christmas Spending
One way to spend on credit cards at Christmas without incurring hefty interest fees is to apply for zero interest credit cards. Obtaining new credit cards should not be a problem for customers with good credit records. Many lenders are still giving introductory offers such as zero interest periods of up to 14 months. Opening a new credit card with an introductory offer will allow consumers to spend and pay back without incurring interest. Credit cards with long interest free periods will allow consumers to pay back the balance without interest over a longer period.
Avoid Using Store Cards at Christmas
It's very tempting for customers to open up store cards when they are offered them at the sales point. Store cards often come with introductory discount offers that can make a difference to the actual purchase price. This can be a good idea if the customer is sure they can clear the balance before the interest free period ends. Store cards come with very high annual percentage rates, usually higher than credit cards. It will usually be less expensive to use credit cards than store cards when shopping.
Online Shopping At Christmas
Many consumers take the stress out of Christmas shopping by using online retailers. Online retailers are good way to avoid the Christmas crowds and goods are delivered directly to the home. The big advantage of online shopping is the ability to shop around for best deals; there are big discounts to be made when shopping online. Using credit cards online is generally safe, and purchases over £100 are completely protected by Section 75 of the Consumer Credit Act 1974. This money back guarantee if problems occur with goods also applies to goods bought in stores using credit cards.
Rewards Credit Cards May Help Cover Some Purchases
Credit cards with rewards schemes may be a good idea during Christmas shopping. Rewards can mean that a percentage of the amount spent will be returned to the customer. Introductory offers on rewards credit cards can include cashback, double Airmiles and supermarket points. The best option however is to look at interest rates before considering the reward schemes offered. Many of rewards schemes are included only on cards with high interest rates, and this will not be cost effective unless balances can be cleared quickly.
Cash and debit cards will always work out less expensive than spending on credit cards if credit balances are not cleared quickly. Paying off credit cards before the interest free period expires is the ideal option to eliminate interest fees. If credit card spending at Christmas is unavoidable then zero interest credit cards should be seriously considered to minimise or eliminate those interest charges.
You might also like...