Using your Credit Card Abroad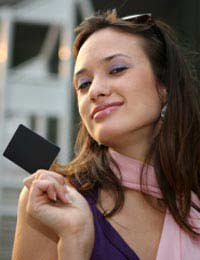 Credit card users will be familiar with the hidden charges that crop up from time to time on your credit card bill, but it's not until you use your card abroad that these charges could really start to mount up! Credit card providers charge customers for making a payment in a foreign currency, for withdrawing money abroad and sometimes even just for checking your balance in a foreign cash machine! Before you take a vacation you should be aware of exactly when you'll be charged, and for how much. Read your the terms and conditions associated with your credit card before you travel, and be aware of the following general information.
Foreign Usage Loading
The exchange rate for customers who make purchases on a credit card abroad is based on the Visa or Mastercard wholesale exchange rate. This is actually extremely competitive and a much better rate than those offered by most foreign exchange bureau. Unfortunately, the costs levied on customers aren't kept so low - if you read carefully the terms and conditions of your credit card, there will be a reference to 'foreign usage loading', a commission that your credit card issuer charges when you buy something abroad.
The foreign usage loading amount varies between credit card issuers and can be as high as 2.75%. If you have time, it is certainly worth looking for a credit card that doesn't impose such a charge before you make a trip!
The Costs of Using a Cash Machine Abroad
Your credit card allows you to withdraw money from cash machines while you are abroad, but you should only be doing this if you are certain of the associated costs! As well as the loading fee, there will be a cash-handling fee of around 1.5%-2% for any cash withdrawal made abroad. Overall, cash withdrawals could costs you anywhere up to 5% of the value of the cash being withdrawn. Furthermore, in many countries (notably including the USA) an additional charge of $1 or $2 is usually added every time you use a cash machine. Overall withdrawing cash from a cash machine on a credit card could cost you as much as £6 for every £100 withdrawn.
Additionally, it's also worth bearing in mind that credit card providers will charge interest immediately on cash withdrawals, without giving you an interest free period sometimes associated with card purchases.
What are the Best Credit Cards?
There are two cards that don't have any foreign currency loading, The Nationwide Visa card and the Lombard Direct credit card. For these cards foreign exchange transactions are very good value. The Nationwide card also has the lowest credit card cash handling fee of just £0.50 or 0.5% (whichever is less) and it's debit card has no cash handling/foreign loading fee. The Liverpool Victoria card is also free from foreign loading charges, but only when customers use their card in the EU.
It is worth noting that even with the foreign exchange loading even standard credit cards offer competitive rates when compared to foreign exchange bureau and are consequently an efficient way to spend when on a trip.
Can I Use Every Card, Everywhere?
Customers can use most UK credit cards in Europe, America, Canada and a vast majority of cards in most other countries around the world too. In some countries (such as France), Visa and MasterCard networks have been merged so that all merchants who take one, take them both. The cash-advance networks however, have not been merged. So, if you are in France, for example, almost any bank or ATM (if you have a four-digit PIN) can give you a cash advance on Visa, but only a few banks and cash machines (and all post offices) can give you a MasterCard cash advance.
In other countries (such as Italy), Visa and MasterCard networks have not merged. If you visit, you should probably take both types of card with you.
In Europe, there are increasingly fewer places that accept only Diners Club or only American Express. In France, you can use American Express at more places than in the United States; in Italy, Germany, England and Greece, you can use it less, in general, except in shops with special appeal to tourists. Be sure to check out the credit-card situation before you travel!
You might also like...