The New Contactless Credit Cards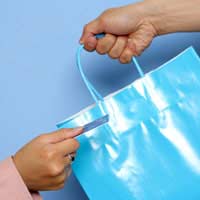 Prepaid contactless cards have been around for a while. But the arrival of new contactless credit cards that do not require a PIN to complete transactions has made some customers question the safety of this technology.
How Do Contactless Credit Cards Work?
Contactless credit and debt cards work by simply swiping the card against a pad to pay for goods. A Personal Identification Number (PIN) is not needed to complete transactions under £10. Transactions over £10 will still require the PIN to be entered. The lure of the new contactless credit cards is that it allows for quicker transactions. Barclaycard introduced the new card in 2007 and had issued its one millionth card by November 2008. They are hoping that by 2011 all of their cards will utilise this new technology.
With No PIN Are These Cards Safe?
Credit cards and debit cards without PIN numbers do raise the issue of a higher risk of theft. Customers who do find their card missing will not be held liable if they contact their bank immediately. Another factor is that the no-PIN transactions are restricted to under £10 meaning there is some form of damage restriction. These points have not allayed the fears of some nervous customers who feel that the new contactless credit cards make theft a lot easier.
What is the Point of the £10 Restriction?
Damage limitation if the card is stolen aside many customers do not actually see the point in the £10 restriction. Many feel that £10 does not actually buy a lot in today's market. Contactless cards may be useful when popping out for lunch and grabbing a sandwich but the limit does seem to be, well, limiting. Some critics have said that a £25 limit would make a lot more spending sense, especially when buying on a credit card.
Can Contactless Credit Cards Be Easily Hacked Into?
The radio frequency identification (RFID) technology in the card means that customers do not actually have to press the card against the card reader; it's simply swipe technology already used in stores. The trouble with RFID is this technology is always 'on' and customer information may be retrieved by scammers with card readers. Banks accept that this can be a legitimate worry for customers and solutions put forward have been special card holders that will block the signals when not in use.
Where Can I Use the New Contactless Credit Cards?
At the moment there are over 8000 contactless card points in the UK and this number looks set to rise. Shops, parking, fast food stores, petrol stations, coffee shops, bars, and even vending machines are all starting to utilise the technology. In the UK major cities such as London are leading the way with contactless card points but it is hoped that once the major banks utilise this technology it will become widespread across Britain.
Are People Actually In Favour of Contactless Cards?
There is always some resistance to new technology especially when it involves cashless transactions. Older members of the public are still wary about using chip and pin technology or using credit cards to buy goods online.
Media reports of identity theft and online credit card fraud have done nothing to allay customer's fears regarding credit card safety. However the younger generation are usually not so hesitant to welcome new technology, especially one that speeds up the buying process.
Is This Another Step Towards the Cashless Society?
Probably not although figures do show that credit and debit card spending is outstripping cash spending. A recent report by the UK Payments Association (APAC) showed that credit and debit payments were significantly higher than cash machine withdrawals. So although experts are saying that cash is still king it looks as if more customers are embracing the new cashless technology.
Are Contactless Credit Cards a Good Thing?
If customers value speed and convenience when shopping then yes the new contactless credit cards can be a good thing. But there is the view that racking up a credit card balance with £10 purchases will only lead to one thing; a bigger credit card debt. It is wiser to use debit cards to make smaller transactions rather than have interest added to a £10 purchase on a credit card. Cynics have stated that contactless credit cards are simply another way for credit card companies to lure the customer into spending more money.
You might also like...