The Legalities of Credit Card Debts and Divorce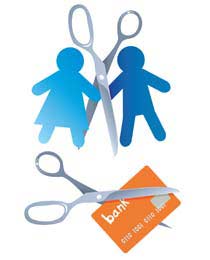 Financial affairs can be a minefield during and after a divorce. Credit cards that are used by both spouses will mean joint liability, and freezing accounts is the best way to stop these debts increasing.
Is A Spouse Liable for their Partner's Debts?
In most cases when a couple divorce a spouse cannot be held liable for debts accrued by their husband or wife. Where credit cards are concerned it may be the case that joint accounts were held through the same credit card company. This means that both spouses are equally responsible for paying back the credit card debts. Freezing the joint credit card accounts will be the first step towards ensuring that no more debt is accrued by either partner.
I Am A Main Cardholder Should I Cancel the Second Account?
A main cardholder can find themselves liable for debts run up on a secondary credit card held by a spouse. The main card holder has acted as a guarantor and can become liable if the spouse refuses to pay their debts. The best option would be for the main credit card holder to contact their credit company and put a stop on the accounts. Credit cards and store cards that are jointly held but never used should also be closed as a safeguard.
Is Freezing a Credit Account the Same as Closing it?
Freezing a credit card account is simply a way of ensuring no more debt can be run up on the credit cards by either spouse. The account will not be completely closed as there will still be debt to be repaid. Credit companies will be able to give advice on freezing an account but this should happen immediately. Notification in writing may be required by some credit companies or a simple telephone call may suffice.
I am a Main Card Holder Will I Be Pursued for Debts?
It can be the case that the primary credit card holder will be liable for debts run up by their spouse. Credit companies should, when possible, try to recover debts accrued by the secondary account holder. If this is not possible then the primary credit card holder will be liable for all debts on that account. The payment of credit card debts and who is responsible should be agreed upon and included in the divorce decree. This should make the payments of credit card debts legally binding but is not an absolute guarantee.
Will My Credit Reference Be Affected by Divorce?
If credit card debts are not paid after a divorce this will be included on a credit reference. If one spouse has taken responsibility for paying these debts and fails to do so this will be recorded on credit references. If the credit card accounts are joint accounts then this will appear on both husband and wife's credit references. Credit companies will actually take note that the account holders are going through a divorce and will be aware that this could mean non payment. This can have serious implications for future borrowing.
My Spouse Declared Bankruptcy, Will I be Liable for Debts?
If a spouse has declared bankruptcy then it may mean that the partner will then be liable for all debts. This would be the case if there were joint credit card accounts and certain creditors do not agree to the bankruptcy. It may be the case that creditors will then pursue the other partner to recover their debts. A large number of divorcees do use the bankruptcy or Individual Voluntary Arrangement (IVA) process to clear their debts. This can be especially frustrating if one partner accepts liability for debts and then declares bankruptcy to avoid them.
Can I Negotiate With Creditors When Repaying Debts?
It is sometimes the case that a husband or wife has no idea exactly how much debt has been accrued on joint accounts. This can easily happen when one person deals with all household financial matters. Creditors will not usually accept innocence as an excuse. But rather than having to go through the courts for non payment the creditors may be open to negotiation.
This could come in the form of a reduced final settlement to clear the credit card debts. Always obtain written notification of any final settlements to ensure that creditors cannot pursue at a later date.
You might also like...