Has Your Credit Card Juggling Backfired?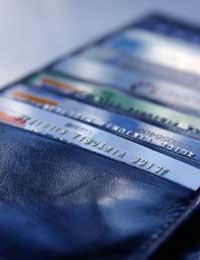 Credit card juggling is a practice used by many shrewd borrowers that involves moving debt from one credit card to another card with lower or zero percent interest rates. But what happens if the credit companies start tightening their belts and refusing new credit applications?
How Do I Know If I Am A Credit Card Juggler?
If you have multiple credit cards that have been built up by changing one account balance over to another card then that is credit card juggling. Credit card jugglers, or 'tarts' to give the slang term, are usually quite astute borrowers. They take advantage of low interest rate introductory offers on new credit cards to keep borrowing rates at their lowest. When the low rate introductory offer ends on one credit card, usually after four or six months, the juggler simply switches the balance to another low rate credit card.
Why Would This Borrowing Tactic Backfire?
In times of economic recession banks and credit companies will tighten their belts and turn down many more credit applicants than during the boom times. During economic recessions finance companies often withdraw low interest rate and zero percent introductory offers, and start looking at cutting credit limits. This is bad news for the credit card juggler. They could find themselves with balances spread over multiple cards or a large balance on a card with rising interest rates and nowhere left to turn.
Does This Mean I Will Definitely Be Turned Down?
Not necessarily but it does mean lenders will apply stricter approval criteria. It could all come down to whether or not the applicant looks like a good or bad risk to the lender. Lenders will start taking more notice of credit references when checking applicants before making a decision. Good interest rate deals may be harder to find. For those with an already high existing amount of debt these low interest rates may be very hard to obtain.
What Should I Do To Help My Credit Approval Chances?
This first thing to do will be to obtain a copy of your credit report to see what is contained within, and what the lenders will actually see. If there are any missed or late payment records or defaults then it will not be a good idea to apply for a credit card. In economic good times borrowers do not always need to have a spotless credit record. However, when lenders are tightening their belts a few black marks on a credit record will make the borrower stand out as a bad risk compared to an unblemished credit record.
Should I Just Apply On The Chance I May Get Approval?
Applying for credit cards in the hope of getting lender approval is not the way to go. Applicants who make multiple applications and are turned down are going to find it even harder to get future lender approval. This is because these refusals leave footprints on a credit record. The lender will see these refusals and will either think that the borrower is a bad risk due to non payment or has overstretched themselves financially. Either way, these refusals are going to look very bad on a credit record and could result in a poor credit rating.
I Have One Clear Credit Card Should I Use This?
If you have a clear credit card or one that has been partially used then it may be an idea to contact the lender to see if a deal can be struck. The lender may let you transfer a large amount of other debts onto this card in order to obtain your business. A deal might also be available at a low interest rate simply in order to obtain your business and make the lender some profit. This of course will all depend on the lender's criteria and whether or not they think you are a good risk.
Is There Any Other Hope Of Getting a Low Interest Rate?
There are some low rate transfer credit cards available that come with long term repayment conditions. The long term credit cards usually have a set period of low rate interest for a number of years. Other long term credit cards will have this interest rate until the balance is actually paid off. When repaying debts on multiple credit cards remember to prioritise and pay the most back to the highest interest rate cards first.
Another alternative may be to clear off all credit cards by taking out a personal loan. If the loan application is successful and the interest rates are low enough this may be a financially viable option.
You might also like...