Why Was My Credit Card Application Rejected?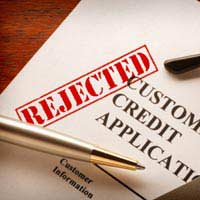 Credit companies are applying stricter lending requirements and more rejected credit card applications is the result. Credit card applications can be rejected for a number of reasons and obtaining a copy of a credit file should help to provide answers.
Will I Know the Reason My Credit Application Was Rejected?
It's not obligatory for lenders to state their reasons for turning down a credit card application. The most usual explanation will be a simple 'obtain a copy of your credit report' and nothing else. Applicants can contact lenders to receive more information but the best route to take will be obtaining a personal credit report. These can be obtained through the post or online and should provide some answers to the credit card rejection decision.
What Will Be Included in a Credit Reference?
Credit references hold a great deal of information that lenders use to help make an approval or rejection decision. The credit report can show if multiple credit applications have been made within a short period of time. Information will also include missed payments and defaulted credit agreements. County court judgements and bankruptcy orders will also be included in credit references. Address changes are another issue that lenders will look for on credit references.
My Credit Reference Is Excellent, Why Was I Rejected?
Lenders use credit references as part to the credit application process but other factors will come into play. Employment and salary details will be taken into account. Changing employment a lot over a few years may not be looked upon favourably by lenders. The risk factor is one of the major parts of the lending decision. The higher the risk to the lender the less chance there will be of them approving a credit card.
I've Been Approved Plenty of Times, Why the Rejection?
Having numerous credit cards and loans can mean the applicant has over extended themselves with debt. This may not be the actual case but it will be how lenders view the situation. Ironically, lenders view applicants with absolutely no credit as a warning sign as well. But the more debt a person has the more chance they could miss payments or default if financial difficulties occur. Lenders are becoming stricter with their lending requirements and do not see applicants with high debt levels as a good risk.
I'm not on the Electoral Roll, Does this Matter?
Applicants who are registered on the electoral roll are providing a security check for lenders. The electoral roll information is a way for lenders to verify that the applicant is who they say they are and check address details. The electoral roll requirement is a safeguard against fraud. Many lenders will simply decline automatically if the applicant is not registered on the electoral roll. This is one of the major security checks for lenders and a definite plus point when it comes to lending approval.
If I Change Address Will This Make a Difference?
The applicant's address should match up with the electoral roll details but problems can occur. If the applicant moves house between mid-August and November and applies for credit within this period there may be a problem. The new address details will not be applied to the electoral roll until December the 1st. This means lenders will still see the applicant's old address, which won't match the new address detailed on credit applications.
How Can I Solve This Electoral Roll Problem?
This problem should only occur between mid-August and the end of November. Anyone who is applying for credit cards and moving house should apply before this time period. There is also the possibility of obtaining confirmation of the new address change from the electoral registration office and having these added in a note on credit references. By doing this, lenders will be able to check credit references and see that this problem has occurred.
Should I Just Apply to Another Lender If I've Been Refused?
All lenders do have their own lending requirements but multiple applications will ring warning bells across the board. The wise move if a lender has declined is to try and tick all the lending requirements before applying again. This can mean repairing a poor credit reference and making sure safety checks are in place such as registering on the electoral roll. Multiple applications will make lenders nervous and they will be more likely to reject applicants who are constantly refused credit.
You might also like...