Should You Transfer Other Debts Onto Credit Cards?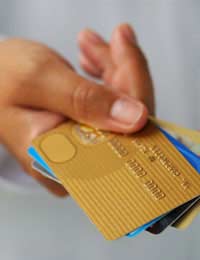 Transferring debts onto credit cards is an option for consumers with good credit records. Transferring debts onto credit cards can mean paying less or even zero percent interest rates whilst clearing debts.
Why Would I Transfer Debts to New Credit Cards?
There are number of different debts that can be transferred over to credit cards. Debts can include loans, store cards and overdrafts; although customers should check that early repayment fees are not applicable on loans repaid early. The goal of transferring debts is to reduce the amount of interest paid on multiple debts. By transferring debts to zero percent interest, credit card customers can effectively cancel out interest fees on all present debts.
Aren't Zero Percent Interest Credit Cards Difficult to Obtain?Not necessarily, especially for borrowers with good credit records. Many lenders are still offering zero percent interest rate credit cards as introductory offers. Many of these cards do come with long interest free periods, some as much as 16 months before the interest kicks in. There are also credit cards that come with very low interest rates to entice customers to switch or transfer balances. As long as the interest is lower than that applied to present debts this is a cost effective method.
Do I Have to Be a New Customer to Benefit from Transfers?
Most of the zero annual percentage rate (APR) interest deals are only on offer to new customers. They are designed to entice new customers from their usual lenders in order to beat the competition. It may worthwhile checking with present lenders if transferring debts is available with their credit cards. It may be possible to negotiate a good deal as lenders do not like losing customers, especially to competitors.
How Do Balance Transfers Work?
Basically, customers open up accounts with lenders who offer the introductory offers and then transfer their present debt onto the new credit cards. Customers should look for introductory credit cards that come with long interest free periods. This will give more time to repay the debt without any interest fees. The introductory offers can come with long periods of low or zero percent interest periods, usually a year to 16 months.
What Are The Downsides of Balance Transfers?
It is important to try to repay the debts transferred before the zero percent or low interest rate period ends. After the introductory periods ends the interest will kick in and this can sometimes mean higher interest rates. It's also important to not spend on the new credit card. Customers who do spend will be charged at the higher interest rate. The new debt won't be paid until the previous debt balance transfer has been cleared and this interest will simply keep accruing.
How Can I Avoid Spending on a New Credit Card?
Those who are tempted to spend on their new credit cards should consider separate credit cards. One should be used simply to pay off the previous debts while the other card can be used for spending. This will avoid the accruing interest on the new credit card. Customers should remember that the new credit card means low or zero percent interest rates but balance repayments will still be required. Customers should try and repay as much as possible within the introductory low interest or zero percent interest introductory period.
How Can I Decide Which Credit Card Gives the Best Deals?
Shopping around is the only way to compare all the credit card deals on the market. There are a few factors that will influence the interest rates supplied to customers. These factors will include how much is being transferred to new credit cards, how long the customer thinks they can clear the new credit card and the customer's credit score. Just because a lender advertises excellent deals does not mean that the customer can obtain them. These factors will be used by the lender to decide the interest rates and the terms and conditions that they will offer new customers.
What Are the Golden Rules of Balance Transfers?
Customers who are considering transferring over debts to new credit cards should always look for the lowest interest rates. Introductory offers should always have long periods where low or zero interest is applicable. Customers should never spend on the new card and never make cash withdrawals. Repay as much as possible and ideally clear the balance on the new credit card before the interest kicks in.
You might also like...