What Happens When Banks Get Bailed Out?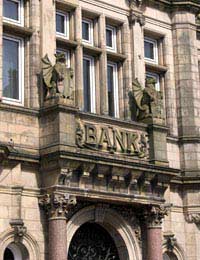 Banks provide the lifeblood to our economy. We use them as repositories for our savings and many individuals and businesses depend on them for cash loans. They keep the systems running and the money pumping, and usually do things so well we barely think about it. But when things go wrong, we certainly do realise how much they do!
What the Banks Do
Banks tend to lend money for long periods, even though they borrow money themselves for short periods, for example cash deposits, that can be withdrawn at will. If too many people demand their money back from a bank at the same time, the bank wouldn't be able to pay all of them - it would go bust.
If this was to happen with one bank, a country's people would be very likely to lose confidence in their own banks and demand their money back from these institutions. In the present system, this would cause all the banks to fail and the damage and destruction to the economy would be immeasurable.
Sustainable Banking
The whole banking system depends on its stability, at its stability depends on the confidence of the general public. It's the responsibility of governments and their agencies to ensure the system remains stable, and essentially, they can, and will, maintain this, by any means necessary.
Governments do this by closely supervising the banks' activities and by stepping in to stabilise any bank that gets into trouble and threatens to bring down the whole system.
The trouble for governments is that ensuring the stability of a banking system risks creating a big problem for tax payers. The knowledge that the government will always rescue them if they get into trouble may encourage banks to take large undue risks in their pursuit of profit.
But governments believe this is the lesser evil compared to the havoc a collapse in the banking system would wreak on a nation, an economy and the general public. Even so, governments seek to minimise problems, first by regulating financial systems and creating regulatory organisations that keep a close watch on the banks and, second, by punishing over confident bank's management and shareholders.
How Banks Get Bailed Out
When banks hit tough times, the most common cause of action for government authorities is to construct a forced combining, pushing a strong bank to take over an failing bank at a strictly enforced very low figure, with the failed bank being withdrawn and going out of existence.
When this option is unavailable (usually because the failing bank is in such bad condition, that no other bank wants to buy it) the government will "bail out" a bank themselves. In essence, this means getting a huge loan from public funds to maintain the failing bank's operations, whilst the profitable parts of the bank are sold-off, and the less profitable parts are reworked, and pushed back toward profitability. This is expensive (or can be, if it takes a long time to regain profitability) but prevents runs on banks, and most importantly, keeps the financial system in operation!
You might also like...