Can't Pay Credit Cards? What You Should Do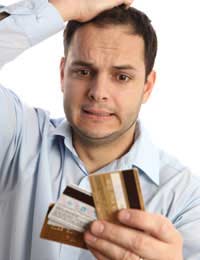 Unemployment, redundancy or simply a drop family income can mean unpaid credit card bills. If credit card debts are becoming unmanageable there are some steps to follow that should lead to a solution.
Dealing with Unmanageable Credit Card Debts
The number of borrowers who have been unable to maintain their credit card accounts has risen in the UK. The credit crisis and government cuts mean that millions of borrowers are at risk when it comes to credit repayments. With one in ten job losses in the public sector, reduced hours, pay cuts and overtimes bans, this situation is set to become worse over the next four years. The inability to repay credit card debts can be stressful and creditors should be made aware of this situation as early as possible. Credit card companies are more than aware of the chance of non repayment from millions of borrowers.
Talk to Creditors at the Earliest Time
If a drop in income is inevitable, debts will have to be prioritised. Credit cards debts are not high priority but failure to make repayments can result in a bad credit rating and court action making future borrowing difficult. If it becomes clear that credit card repayments are simply not an option then creditors should be made aware of this as early as possible. Credit card customers should either set out the situation in a letter or contact their creditors by phone. Do not stress over this situation, there are millions of borrowers with exactly the same credit problems.
Make an Offer of Payment to Creditors
Creditors will enquire whether any payment at all can be made even a very small amount. If this simply is not possible then creditors should be made aware of this rather than promise an unrealistic payment. Creditors may try to pressure customers to make larger payments than they can afford. Paying an affordable amount, even a very small amount will show creditors that the customer is taking the situation seriously. If an agreement can be arranged over reduced payments this agreement should be made in writing.
Other Options Available to Credit Companies
Credit companies and lenders do have the power to freeze credit accounts for customers who are having difficulty with payments. This will mean that interest charges and payments can be frozen. This will stop account balances increasing and give customers some breathing space. It may be the case that accounts can be frozen for an agreed period. This will give customers an amount of time to find alternatives to the drop in income that has caused the payment problems.
Multiple Credit Card Debts
It's not unusual for borrowers to have multiple credit card debts, and the more accounts the more lenders to contact. If this is the case then many borrowers will struggle to make even the minimum repayment amounts on all of the credit cards. Again, writing to all credit card companies and explaining the situation clearly is the only option. Token payments of as little as £1.00 to every creditor can be offered if that is all the debtor can afford. Offering even a tiny amount can mean that court action may be avoided.
The Worst Case Scenario with Unmanageable Debts
The worst case scenario with unpaid credit card accounts can be court action. It will take a very long time before this point is reached. Credit companies will usually sell on their debts to debt collection agencies who will then try to recover the debt. Be aware that credit companies sell on debts for a tiny fraction of the actual debt amount. Debt collection agencies can be avoided with token payments. Courts will usually side with the debtor if there is a genuine reason why a debtor cannot pay their credit card bills.
Remember to Check Payment Protection Insurance Terms
If payment protection insurance (PPI) was taken on the credit card agreement then customers may be covered for payments. The terms and conditions of the PPI will set out exactly when the insurance can be claimed. Payment protection insurance should cover redundancy, sickness and injury. Depending on the premiums paid there may be additional cover included. This insurance should cover at least 12 months of credit card repayments.
Unpaid debts can be extremely stressful but solutions are available for those who contact their lenders. Credit card companies do have solutions set in place to deal with problems with payments. Most creditors will be sympathetic and should be open to small payments and negotiations. Anyone who is worried about credit card debts can obtain free help and advice from the Citizens Advice Bureau or the Consumer Credit Counselling Service.
You might also like...