Will Credit Card Companies go Bust?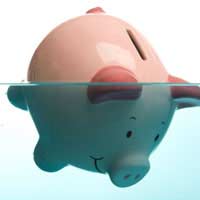 Until late 2007 the UK economy had experienced ten years of boom time. Access to money had become easy and cheap - it seemed like anyone could afford anything. When the credit crunch hit, everyone had to reassess their finances, not least of all the credit card companies who had played their part in providing such cheap cash. However, things had been getting tough for some time for these large lenders, and the credit crunch was the last of a series of problems which all resulted in decreasing earning potential, and a greater risk of bankruptcy - bust.
Mounting Problems
The credit card industry has been hit by a double whammy recently. First of all, the loss of overall market share for major companies has resulted in fierce competition. Lenders have been waging a war on each other to generate customers, offering zero percent transfer charges to attract more business, cutting their money making potential in the process.
The second problem the credit card industry faces is increasing (and likely to continue increasing) financial regulations and other measures, that have greatly reduced their profitability. In 2006 OFT (Office of Fair Trading) reduced the maximum penalty fee from at least 20.00 GBP down to 12.00 GBP and the EU is looking at ways to reduce the interchange fees charged to merchants who accept credit cards. The personal protection insurance that is often bundled with credit cards is also under investigation by the Competition Commission.
The credit card companies now have to deal with these higher costs when running their day to day business. The source of cheap wholesale debt they have been used to has run dry for the time being, due to the credit crunch.
Put this together with the credit crunch, which is making it harder for borrowers to manage their finances and make their credit card repayments, leading to increased arrears and customers defaulting on due payments, and it does seem plausible that credit card companies could soon be in a position when they go bust.
Crunch Time
Even customers who repay their credit card bills every month could be a potential risk to credit card companies if the credit crunch caused their circumstances to change. The possibility of an economic slowdown or even a recession makes it a possibility that some customers will lose their jobs, putting a heavy burden on their finances.
The Credit card issuers now have to evaluate the risk associated with every customer and potential customer and the issuers will be keeping a sharp eye on anyone who applies for credit of any kind, to ensure that at the first sign of any financial difficulty, the credit card issuer will be the very first company to be paid. Although issuers want to keep lending (this is how they make huge profits), they will only lend to those who they perceive as being the safest risk, and right now, during credit crunch, very few people are entirely "safe".
What Can Credit Card Companies Do To Prevent Themselves Going Bust?
In truth there is little they can do, now. Years of semi-reckless lending by banks and credit card companies means that too many people, with too much risk were given access to too much easy money. Now, as bad times hit, the credit card companies must suffer the consequences of their actions, and this could be catastrophic.
You might also like...