Ten Tips to Clear Your Credit Card Debt Quickly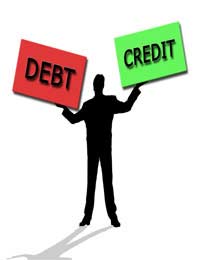 Debt has a way of sneaking up unexpectedly especially where credits cards and account balances are concerned. Use these ten tips to help clear your credit card debt quickly and save money on interest payments.
1. Move to an Interest Free Credit Card
Moving your present credit balance to an interest free credit card can make a huge difference if you are trying to reduce your debts. By moving to an interest free credit card with a long interest free term, around six to fifteen months, you will freeze your interest payments. Customers may be required to pay a transfer fee, usually around 2% to 3%, but this will usually be added to the debt, not paid upfront.
2. Always Pay More than the Minimum Payment
Minimum credit card repayments are designed by the credit card company to keep you in debt longer. You are basically only paying the interest fee and not making a dent in the balance. If you are a borrower who does not clear the balance every month then aim to pay as much as you can comfortably afford to your credit card account. The more you pay, the faster the debt will reduce and the less interest you will pay.
3. Avoid Spending on Credit Cards
An obvious debt reducer and something that a great many credit card holders don't want to hear. Many people use credit cards to pay for small purchases every day such as sandwiches and cigarettes. This is a complete waste of money in terms of interest payments. Try to use debit cards or cash when paying for small items. These small purchases may not seem like much but they will add up over the course of a month.
4. Take a Consolidation Loan
Taking on more debt may not seem like the wise option to clearing debts but it could turn out to be a money saver. Taking one low interest loan may be the answer if you have a number of debts spread over credit cards. A short term, low interest loan is the best option when choosing a consolidation loan. Always make sure that you do not succumb to the temptation to spend on credit cards once the balance has been cleared.
5. Release Some Equity
Home owners with an amount of equity on their home may be able to release some to clear their credit card debts. This is similar to the consolidation loan option but an equity release loan will not be paid back until the sale of the home. These schemes do come with certain stipulations regarding loan applicant age and size of mortgage.
6. Freeze Your Credit Card Interest
If you are struggling to make monthly payments then contact your lender immediately. They may be willing to offer an arrangement where they will freeze the interest for a period of time or they may reduce the monthly payments. This is usually a better option for lenders than chasing borrowers who refuse to pay their credit card debts.
7. Borrow Money from Family
This many not be an option for everyone but it can be a good alternative to a bank loan. A low interest loan from family or friends could help you to quickly clear off credit card debts. It will save on interest payments especially if you have multiple credit cards. Again, credit card accounts should be closed once the balance has been cleared.
8. Avoid Debt Clearance Companies
You can save money by avoiding companies that claim to easily eliminate your credit card debts for a fee. There is basically nothing that these companies can do to clear credit card debts that you cannot do yourself. The fee charged would be put to better use if it was put towards clearing your actual credit card debts.
9. Use a Cashback Credit Card Scheme
Using a credit card with a cashback scheme has two distinct advantages. One advantage is that you need to clear your balance every month to achieve the cashback bonus and the second advantage is the actual bonus itself. Clearing the balance every month will save on interest fees and missed payment charges. The cashback awarded will usually be given annually and based on a percentage of how much you have spent on the card.
10. Cut Up the Credit Cards
Actually cutting up your credit cards is the ultimate way to quickly reduce your credit card debts. For some borrowers this is unthinkable but it is one of the first steps towards reducing debts. The second is paying as much as you can towards your credit card bills. Many people live quite happily without the need to make multiple payments every month to credit companies. Debit cards and pre paid credit cards can be a step forward towards a debt free existence.
You might also like...