Don't Get Caught Out by Small Print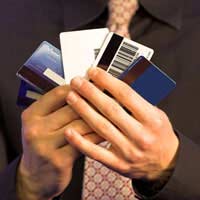 You would be forgiven for thinking that the Annual Percentage Rate (APR) quoted by major credit card companies is the amount of interest you are liable to pay on credit used. But like many things in life, it's just not quite this simple!
Credit card companies use such a variety of different ways to calculate your interest rate that it's often impossible to work out which one offers the best deal, and how much you'll be paying once you sign up. Essentially, APR on its own is meaningless. If you want to compare credit cards seriously, you'll need to read and re-read small print attached to each provider, and then spend a good deal of time sitting down, working out the best deal for you. Quite a lot of hassle for a lifetime of high-priced interest repayments!
Thankfully the Office of Fair Trading is getting involved with the APR scandal, although no action will be taken for quite some time.
Two Cards with the Same APR, Separated by 43% Interest!
Which? has identified 12 different methods used by the top 20 credit card companies to apply interest. The magazine believes banks make about £400 million a year more than they should by twisting the numbers.
Which? used an example to illustrate the Inconsistency in the credit card market by comparing HSBC and Sainsbury's Bank who both claim to charge an APR of 15.9% on their cards. Assuming exactly the same pattern of spending, with the cardholder using his card to make purchases of exactly £500 per month and paying off most of the debt over the following four months, HSBC's interest charge would be £58 but Sainsbury's would be £83, the equivalent of 43% more!
Encouraging people to use the APR as a means of credit card comparison is highly dubious as it is not an accurate measure of future payments and does not allow consumers to make an informed decision when choosing their credit card provider. For this reason the Office of Fair Trading (OFT) is putting pressure on the major credit card companies to standardise their interest calculations so we can all make better choices.
What Factors Hidden in the Small Print can Affect my Monthly Payments?
Interest-free induction period: Some cards offer an interest free introductory rate of anywhere up to 18 months whilst other cards offer nothing of the kind! Furthermore card companies that offer these special rates often forget to tell customers that the interest free offer will be withdrawn unless balances are paid in full, on time, each month. Beware!
When does your company stop charging interest?: Interest may stop accumulating from the point that you actually pay off the balance of your account, or it can be up to the date of the statement before the balance is paid off. This is why closed accounts can sometimes continue to accumulate fees!
How does your firm work out the interest they charge you?: Some multiply the average balance over the month by the monthly interest rate. Others add up all the daily balances and multiply by the daily interest rate. It does makes a difference and you should be aware of it!
When does your firm start charging interest?: Interest can accrue from the date of purchase, or from the date when it's entered on your account. Find out, so you know how fast to pay your bills.
Does your firm charge interest on your pay date itself?: Find out whether your credit card company actually charges you interest on the day you pay the bill. Everything adds up, especially over the course of a year and you need to know where you stand!
Does your firm charge interest on interest?: It's sneaky, it's misleading and it probably should be illegal but some cards include the interest you're due to pay on this month's statement in the next month's outstanding balance, regardless of whether you've actually paid it. Like everything else, find out exactly what happens at your card company!
CREDIT CARD ANSWERS IS FOR SALE.
This website is for sale [more info].
You might also like...