Changes To Credit Card Representative APR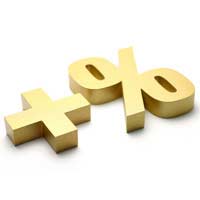 Credit card consumers are usually well aware of what the annual percentage rate (APR) applied to their accounts means. But with new credit rules coming into force lenders must now state the representative annual percentage rate in their advertisements.
Previous APR And Lender's Advertising
Previously, lenders only had to state the typical annual percentage rate. But not all customers who applied for a credit card would receive the same APR. Lenders apply different rates of APR to customers based on a number of different factors, such as earnings and credit history. In many cases, the APR that the lender advertised would be a low one designed to entice customers. But customers with poor credit ratings and a low income would not usually be offered the low APR as stated in the lender's advertisements.
The Representative Annual Percentage Rate
New rules set out by the Consumer Credit Directive mean that creditors must now advertise the representative APR. This is designed to give borrowers a clearer picture of how much their borrowing will cost. This should also make it easier for customers to compare the credit cards and loans available. Basically, the representative APR is the rate expected to be given to at least 51% of applicants. The other 49% of applicants will be offered a higher rate of interest or could be declined a credit card completely.
Other Changes With The Representative APR
There are a number of other different factors that go into making up the representative APR. The representative APR has to take into account the usual hidden costs associated with credit cards, such as balance transfer fees and annual charges. Creditors generally would leave this information out of the advertising in the past. Creditors must also state on advertising whether the rates are fixed or variable when it comes to credit agreements. Hopefully, the representative APR will make customers more aware of the rate they are likely to get, and not the fluctuating 'maybe' APR rate previously advertised.
Why The Representative APR Is Good News For Borrowers
The representative APR should stop a lot of time wasting on the part of lenders. Customers can see the expected APR, and therefore won't have to be put through the assessment, only to be offered a much higher rate due to poor credit history or other detrimental factors. Borrowers will also have a clearer picture of how much their credit card borrowing is going to cost them overall. Comparing credit card costs will be a lot easier if the customer is made fully aware of the rates. According to many media reports, the new rules are being hailed as an end to ripping off credit card customers.
Higher Interest Rates With Representative APR
Financial experts suggest that the representative APR is not all good news. Many experts claim that the lenders will try to make their money from the percentage of borrowers who are accepted at the higher rates. This means lenders may hike up the rates significantly for borrowers. Lenders could then start to advertise higher interest rates for borrowers. The representative annual percentage rate could be a double-edged sword if it means a loss for lenders.
Changes To Credit Reference Information
If a customer has been turned down for a credit card, the lender will have to give basic information as to the reason why. Lenders must tell applicants whether or not they have been rejected because of information contained in their credit reference. But lenders still do not need to say exactly what this information is that led to the rejection. This means borrowers must contact the agency that the lender has used to obtain the credit reference. The lender will need to supply the contact details of that credit reference agency.
The new representative APR came into effect on the 1st February 2011. Hopefully, this will provide a fairer deal for borrowers of loans, credit cards and other credit agreements. The inclusion of all previously hidden costs should make it much easier to calculate exact borrowing costs. Borrowers should, of course, consider their credit rating before applying for a credit card, as this will still make a difference to the interest rates they will receive.
You might also like...