Computer Viruses And Credit Card Fraud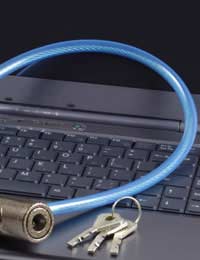 Scammers are well aware that a huge number of people use credit cards to shop and pay bills online. Credit card fraud has become a concern for many people who use their cards for these transactions. But there are ways to beat the scammers and stop the computer viruses.
The Problem With Free-To-Download Online Security Tools
Computer users may think that they have strong online security in place, but the scammers are constantly coming up with new viruses to infect personal computers. There are many online security tools available to computer users, specifically designed to combat viruses and infections. Unfortunately, a large number of home computer users download free online security tools that often don't offer complete security. Many of these online security tools don't offer real-time protection, which means constantly guarding against infections whenever the user is online. Some of these security tools will simply scan computers once a day, at most, and by then the user's computer may already be infected.
An Example Of Online Credit Card Theft
One common example of credit card theft through a computer virus is the Windows activation virus. A Trojan virus, masquerading as a legitimate Windows application, will simply lock down the user's screen. The virus will ask the user to enter an activation code and credit card details as verification. Another common virus will again lock down a screen and state that the computer's security has been compromised. The fake screen will ask for credit card details in order to update the security systems. These are very common infections that can occur on computers that do not have full system security in place.
How Easy Is Online Credit Card Fraud?
Credit card fraud is rising in the UK and online fraud has been one of the major reasons for the increase. According to a British Crime Survey of 40,000 UK households, there were 2.8 million cases of fraudulent credit transactions in 2009. This figure is increasing with three quarters of credit card fraud taking place with 'card not present' transactions. Credit companies are taking these findings seriously and have introduced new security features, such as the password protection for Mastercard and Visa transactions. But there have also been reported cases of online users involved in scams even with the additional credit card protection in place.
Spotting A Fraudulent Credit Card Request
It's not always easy to spot a fraudulent credit card request, which means a computer may be infected. Computer users who are not aware of these viruses can easily be duped. These scams look very much like legitimate requests from banks and credit card security systems. But banks will never ask for credit card details online. Security systems that lock up or freeze a computer screen will usually mean an infected computer. A trip to a computer repair shop may be in order to remove these infections completely.
Combating Internet Credit Card Fraud
There are a few easy ways to prevent online credit card fraud, these will include:
Having a full online security system through a recognized online security provider that gives real-time protection.
Never giving credit card details to requests online from banks.
Always looking out for the padlock symbol in the address bar when making online transactions for extra security.
Always reporting to a bank or credit company if requests for details have been made online. (Some fraudulent requests are easy to spot and will be filled with spelling and grammar mistakes.)
Remember that free-to-download online security may not guarantee protection from all viruses and infections.
When shopping online use strong passwords and change these passwords frequently.
Always checking credit card statements for small unknown transactions that may be appear regularly.
Credit card fraud should be a concern for computer users who do make frequent online transactions. Real-time protection should be used to ensure that security tools can detect and eliminate infections as they occur. It only takes one infection to leave a user and their online contacts open to fraud. Spending a few pounds on a recognised security software system should bring peace of mind and decrease the risk of credit card fraud.
You might also like...