Victim of Credit Card Fraud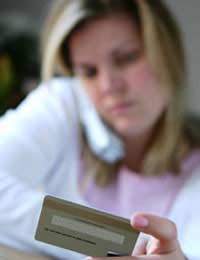 Credit card fraud is big business these days and it is on the increase, thieves will not think twice about cloning your card and using it to run up thousands of pounds in debt.If you're lucky your credit card provider may warn you in advance if they think that somebody else is using your card.
Firms will normally look out for unusual activity on your card or unusual spending activity.It is not a pleasant experience if you do get your card details stolen, however, nowadays banks and credit card providers are a lot more savvy when it comes to credit card theft and they will have measures in place to protect you and themselves.
If they have not already contacted you, the first thing you should do is contact your credit card firm, once you realise that somebody has been spending on your card.As soon as you report it, the firm should cancel your card immediately, which means that whoever is using it will no longer be able to.
Differences Between Credit Card Firms
Once you have reported your card as stolen, the credit card firm will then send some forms to fill in. You will be expected to prove in some way that you did not carry out the transactions, which can be easier in some circumstances than others.
If somebody was spending on your card in France, while you have been at work in the UK, you can easily prove that you were at work and it wasn't you that spent the money. In most cases, it will be a simple process and the credit card firms will be satisfied with your answers. However, if it is a bit more difficult to prove that it wasn't you, then the credit card firm may dispute your claim, and will have to look into it further.
Credit card firms will differ in what service they will give you once your card has been stolen, some credit cards will come with protection against theft or loss of a card, in this case you should be well protected. However, some will not offer this and may be a bit more fussy about writing of the loss.
Credit Card Fraud Prevention
There are lots of things that you can do in order to minimise the risk of your card details being stolen. Apart from being more careful with your card, you should also make sure that you do not type in your credit card details on any websites that may not be secure, as this is one way that thieves can gain access. Also be careful when in places such as restaurants, if somebody takes away your credit card when you are paying, don't let them out of your sight in case they copy down the details. Always be careful if you get a phone call or receive an email from somebody claiming to be from your credit card firm, as they may not be and trying to get details out of you.
The most important thing to do if your card has been stolen is to move quickly and get it cancelled as soon as you can. The process after this will depend on what procedure your credit card company has, if you are as honest as you can be then it should run smoothly.
You might also like...