Living Without a Credit Card: A Case Study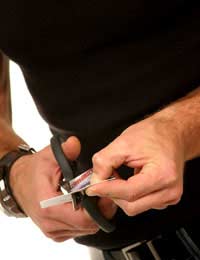 Using an IVA or becoming bankrupt will definitely mean difficulty in obtaining credit. But living without credit cards can be a positive financial learning process, as this case study show.
Obtaining Credit during an IVA
Brian Lawson, 42, filed an individual voluntary arrangement (IVA) in 2002 after his debts became unmanageable. "I know it's a clichéd saying it, but I was drowning in debt and it was either an IVA or bankruptcy." said Brian. "I had nearly £20,000 worth of debt spread over credit cards and the repayments were sucking up most of my monthly salary." Stress from debt collector harassment eventually led Brian to a debt management company who proposed an IVA.
"I was aware that the IVA was going to last for five years but the repayments to creditors were a lot lower than I was paying at present." An IVA isn't just a way to pay back debts. Debt solutions will usually mean that credit is extremely difficult to obtain. In most cases this means living without the ability to pay by plastic.
Living Without a Credit Card
Trying to obtain credit during an IVA isn't a good idea. The IVA will be marked on the individual's credit record and this will be a major hurdle to finding low interest lenders. "At first I didn't even consider looking for a credit card because I knew it would be pretty pointless applying. " Brian said. "I was missing out on certain things such as shopping online. I went to a work's Christmas party one year and had to stay at a hotel. I was so embarrassed when they asked for credit card details as security and I had to say I didn't have one."
Avoiding High Interest Lenders
Brian decided to start looking at his credit card options in year two of the IVA. "One day I just started scanning the net for credit card companies. I actually just wanted to see what was available to me," he said, "it soon became clear that my only option would be lenders who applied no credit checks with huge rates of interest." Brian decided against these lenders. "The high interest lenders, although tempting, weren't for me. I think I would easily just have fallen behind with payments as I had before."
Coming to Terms with a Credit Card Free Life
One of the major issues of debt solutions such as an IVA is rethinking what credit actually means. Brian had previously viewed his credit cards as extra money not borrowed money. "The IVA was a definite learning process and I'm glad I went through it." Brian said. "It was hard at first not to be able to spend what I wanted when I wanted but then it gradually became easier." For Brian living without credit cards meant no more harassment from credit companies and an end was in sight. "I viewed living without credit cards as temporary at first but as time went by I realised I didn't really need them at all."
Alternatives to Credit Cards
Throughout the IVA process Brian made do with the basic bank card provided by his bank. "This was simply the most basic bank account you can get. The bank added a debit facility when they reviewed my account after six months." Brian said. "Spending only what I could afford, which was actually very little, was a definite learning process. For the first time in my life I actually began to budget money and look for ways to make my money last." With a basic debit card Brian could shop online or pay in stores, just as he could with credit cards, except this was his own money he was spending.
Credit Cards versus a Debt Free Life
Even after the IVA had finished Brian would still find it hard to obtain a credit card, even if he wanted to. "Now that the IVA process is over I'm pretty much debt free." Brian said. "I could start trying to rebuild my credit rating by obtaining a new credit card but I've decided not to use the plastic again. I really don't want to have to start paying those debts again every month now that I'm debt free." Brian simply uses his debit card when needed and has an overdraft that he keeps a careful eye on.
Brian claims that one of the major plus points of living without credit cards is not paying out his wages in interest fees. "It's simply makes life easier not paying out to different companies every month. I used to be embarrassed about not having a credit card or not being able to get one." said Brian. "Now, I wouldn't go back to giving these credit companies my money. They are the only ones to benefit from the credit card deal."
You might also like...