How I Juggled My Credit Cards: A Case Study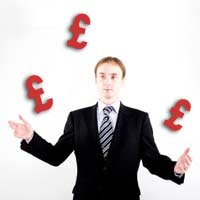 Over 3 million borrowers in the UK are juggling five or more credit cards and some are applying for even more cards. There is a successful way to juggle credit cards, and as this case study shows, it can slash interest rates.
Massive Credit Card Debts
Finding yourself with nearly £20,000 of debt is never a good way to start the New Year but that is the situation Steven Adams found himself in last January. When his credit card statements arrived at the beginning of the year he was hit with the fact that he had amassed £20,000 worth of debt over three credit cards. "I was a bit stunned to realise it had come to this," Steven said. "I really thought the only solution was to cut up the cards and continue paying the massive interest rates. I knew it would take me years to clear it all."
Low Interest Credit Card Offers
Around the same time Steven had been receiving letters from various credit card companies offering low interest rates and zero interest rates on transfers. "I had been getting these offers for a while but didn't take any notice of them." But now, desperate for a way to cut how much he would pay back to his credit companies, Steven began to look at the zero interest transfer offers in a new light. "A friend of mine had talked about juggling her credit cards. It basically means moving a high interest balance over to a credit card company offering zero interest for a set period."
Doing the Credit Card Shuffle
Steven sat at his computer and began to calculate interest rates and balance transfers on his credit cards. He soon began to devise a credit card juggling act that would drastically cut the interest rates he was now paying on his credit cards. "I starting transferring my present credit card balances over to zero interest cards with long interest free periods, usually between six and 15 months." This had the affect of eliminating the interest to allow Steven more time to pay off larger amounts of his debt.
Lenders and Balance Transfers
At first Steven was sceptical whether or not this would actually work. "I was more sceptical about whether or not I would actually be accepted for these credit cards," said Steven. "But lenders did not seem to have any problem with me transferring balances. I had a good job and no blemishes on my credit record." There were transfer fees on the cards, usually around 2.75% of the transfer total. These transfer fees were not paid up front but added to the actual account balance.
Sticking to the Juggling Act
A careful eye needs to be kept on the credit card juggling act. One wrong move can see interest being applied to the card. "You need to know exactly what interest rates are being applied by the different companies," said Steven. "Credit companies have different interest rates for different services on the same card such as balance transfers at 0% but cash withdrawals at 27%. So if you are going to spend on cards you need to use the card with the cheapest rate." As Steven also explained jugglers also need to keep a strict eye on when the zero interest offer stops.
The Interest Free Period
Zero interest transfers do come with a limited period. If borrowers are transferring over large balances in order to pay off debt then they must be aware of when the interest free period ends and the interest begins. "Before a zero interest period ends I transfer the remaining balance over to another zero interest credit account." Steven said." You can't be lazy about keeping an eye on this. You only need to miss the expiry period by a day for interest fees to begin."
Stop Paying High Interest Rates
For Steven the main aim of transferring credit card balances was to eliminate the interest rates and pay off his debt quickly. "To pay off the debts quickly you need to limit the amount you spend on the new cards. You are not going to clear balances any quicker if you take a zero interest card but then spend money on it that will be charged interest." The best bet, according to Steven, is to take an extra card that will be used for spending only. By doing this you can keep reducing the amount on the zero interest cards without spending on them or applying interest fees.
Juggling credit cards isn't for everyone although it can drastically slash interest that is being applied. This approach to paying off credit cards takes discipline and a strong will not to be tempted to spend on the new credit cards.
You might also like...